Reconnecting Americans to the Benefits of Work
Why are fewer prime-age Americans in the workforce? Many popular explanations attribute Americans' declining labor force participation to declining wages, technological change, and international trade. A new report from Joint Economic Committee Republicans' Social Capital Project finds that these forces cannot fully explain increasing inactivity among able-bodied prime-age Americans.
Instead, many would-be workers are voluntarily disconnected from work, and government programs and policies have likely made work less attractive for these Americans. Beyond a paycheck, employment is also an important source of social capital that provides material and immaterial benefits to personal well-being. By evaluating the incentives workers face, the report recommends a number of policy reforms to lift barriers, remove disincentives, and increase the attractiveness of work.
Key Findings:
The U.S. has witnessed an unprecedented rise in disconnected prime-age workers over time. For men, this trend goes back half a century, with their labor force participation rate falling from over 97 percent in 1955 to 89 percent before the pandemic. For women, receding workforce participation began in the last two decades.
Many popular explanations blame declining wages, technological change, and international trade. However, key evidence indicates these forces have not made it significantly more difficult for workers to find well-paying jobs.
Examining worker preferences and their incentives provides a better explanation. The decline in prime-age labor force participation has been mostly voluntary. Only 12 percent of inactive, prime-age, able-bodied men said they wanted a job or were open to work. Among men who are inactive for reasons other than disability, retirement, education, or homemaking, 41 percent personally receive government assistance.
Government policies may be tipping the scales away from work. A growing number of Americans receive government assistance, which has been shown to lower employment. Regulations can also disproportionately harm low-skilled workers by creating unnecessary barriers to economic opportunity.
Policymakers can help reconnect Americans to work by lifting barriers, removing disincentives, and increasing the attractiveness of work. Policymakers could lift barriers to work through occupational licensing reform, zoning reform for home-based businesses, increased flexible work arrangements, better targeted non-compete agreements, and reintegration of the previously incarcerated. Policymakers could also fix disincentives to work in Temporary Assistance for Needy Families, the Supplemental Nutrition Assistance Program, Medicaid, Social Security Disability Insurance, Supplemental Security Income, Unemployment Insurance, and other social safety net programs. Finally, to expand positive incentives, policymakers could study wage subsidies and ways to better match worker skills to employer demand.
Ultimately, the costs of disconnection are far too high. Work instills self-respect, offers a chance to thrive through personal achievements, and is an opportunity to deepen community ties. Revitalizing connections to work, especially in the post-pandemic labor market, can significantly improve the economic, social, and mental well-being of disconnected Americans.
Introduction
Employment during our working years provides the income that affords us the things we value in life and most Americans work hard to put food on the table every day. But while few people would profess that they live to work, it is also not the case that most people simply work to live. Seven in ten workers say they would "enjoy having a paying job even if I did not need that money," and over a quarter affirm that their "main satisfaction in life comes from work."[1]
Workers derive meaning and purpose from employment. The workplace offers the chance to associate with others and form affirming and satisfying relationships. Those relationships provide material and immaterial benefits to workers; that is to say, they constitute valuable social capital.
In the absence of work, people and communities suffer. Those outside the labor market (neither working nor looking for work) fare worse than their employed counterparts, as we found in our report, "Inactive, Disconnected, and Ailing: A Portrait of Prime-Age Men Out of the Labor Force."[2] Prime-age men who are out of the labor force are more socially isolated and less happy than employed men. At the community level, the disappearance of work can lead to depopulation, brain drain, and the decline of other institutions of civil society.
Unfortunately, American men have become increasingly disconnected from the world of work, a trend going back many decades. As the American Enterprise Institute's Nicholas Eberstadt noted in his May 2019 testimony before the Joint Economic Committee, the employment-to-population ratio for prime-age men is near levels seen in the Great Depression-era.[3] Among women, a long, steady increase in labor force participation also reversed course over the past twenty years.
In June 2020, the National Bureau of Economic Research officially demarcated February 2020 as the start of the pandemic-induced recession.[4] Much of the content in this report will refer to a timeframe that preceded the pandemic, with recognition that we have much left to learn about the effects it will leave behind on our health, communities, and economy. We can only speculate how much the pandemic will change the world of work. Whether temporary or long lasting, the economic disruptions may accelerate promising pre-pandemic trends such as more flexible work options and remote work, while also possibly compounding the decades-long decline in male labor force participation and other labor market trends. In September 2021, overall employment remained about five million jobs short of its pre-pandemic level, a worrying sign for many Americans' connection to work.
Although this report mainly focuses on the pre-pandemic period, understanding this history is critical to understanding the future of the labor market. This report summarizes trends in the American labor market, considers the possible explanations for declining labor force participation, and explores a number of possible reforms that could promote employment for the able-bodied. It is primarily concerned with prime working-age adults (ages 25 to 54) whose disconnection from the world of work is not due to their getting an education, being happily retired, preferring to raise a family, or being physically or mentally incapable of work. Many women and men outside the labor force lead productive, valuable, and happy lives, however, work does seem to increase life satisfaction, social connectedness, and self-esteem.[5] Work is a means to promote wellbeing, not an end in itself. At the same time, no one has the right to expect taxpayers to support them if they are able to support themselves and their families but choose not to work.
The reasons that so many men have fallen out of regular employment is important. One worrying hypothesis is that declining employer demand for workers, especially low-wage workers, has depressed wages and diminished the market incentive to work. As this report will argue, there is stronger evidence that a shrinking supply of labor is the dominant trend, as more workers choose not to supply their labor due to changing preferences and external incentives. Less labor market work among students, full-time parents, or early retirees is not an immediate concern. Rising inactivity among men with the capacity for independence who subsist in large measure on government transfers requires careful reforms to encourage a return to the self-sufficiency of work.
Our examination of disconnection from work begins with an overview of trends that affect the supply of and demand for labor.
A Transformed Labor Force
The U.S. labor force evolved in countless ways over the course of the last century and through the beginning of the twenty-first century. The most notable changes include:
An aging workforce (and an aging population more generally),
Increasing participation of women in the labor force,
Rising educational attainment among Americans,
Growth in the share of the workforce comprised of immigrants,
A technology and trade driven shift from a largely agrarian economy, to one dominated by industrial production, to an economy primarily involving services,
Changes in the skill requirements of jobs, and
Increasing numbers of men disconnected from the labor force.
Skewing Older Over Time
The Bureau of Labor Statistics (BLS) reports that, since the late 1990s, older workers remained in the workforce longer while the youngest workers are increasingly delaying entry.[6] As older Americans delay retirement, BLS projects that workers aged 65 and older will account for 8.6 percent of the workforce by 2026 (up from 5.8 percent in 2016). Older Americans with more education are disproportionately extending their work lives because high-skill jobs themselves are usually more gratifying and less physically demanding.[7] As for younger Americans, most 16- to 19-year-olds, and increasingly 20- to 24-year-olds, are forgoing work in favor of obtaining additional years of formal education. As a result, the share of 16- to 24-year-olds not in education, employment, or training (referred to as NEET) remained largely unchanged between 1998 and 2014. However, the share of 16- to 24-year-olds with only a high school diploma who are NEET increased from 8 percent to 12 percent over the same period.[8]
Focusing on the prime working-age population (ages 25 to 54), as we do in the following sections, allows us to set aside these trends among the youngest and oldest workers, which are driven by changes in health, longevity, and school enrollment.
More Women in the Labor Force
Among the most consequential changes in the American economy has been the steady entrance of women into the labor force (Figure 1). Over the last half of the twentieth century, the female labor force participation rate (LFPR) more than doubled. Among prime-age women, it rose from 35 percent in 1948, to 45 percent in 1965, to 55 percent by 1975 and 65 percent by 1981. It peaked in 1999 at 77 percent, before temporarily declining, and in 2019 it neared the peak again at 76 percent. As American women steadily joined the labor force, their male counterparts slowly exited, a point we will discuss below. The pandemic reduced LFPR among prime-age women by a percentage point to 75 percent in 2020, about the same rate as in 2017. LFPR for prime-age men fell by more than a percentage point in 2020, dipping below 88 percent and marking a record low.
Figure 1. Prime Working-Age Labor Force Participation Rates by Sex, 1870-2020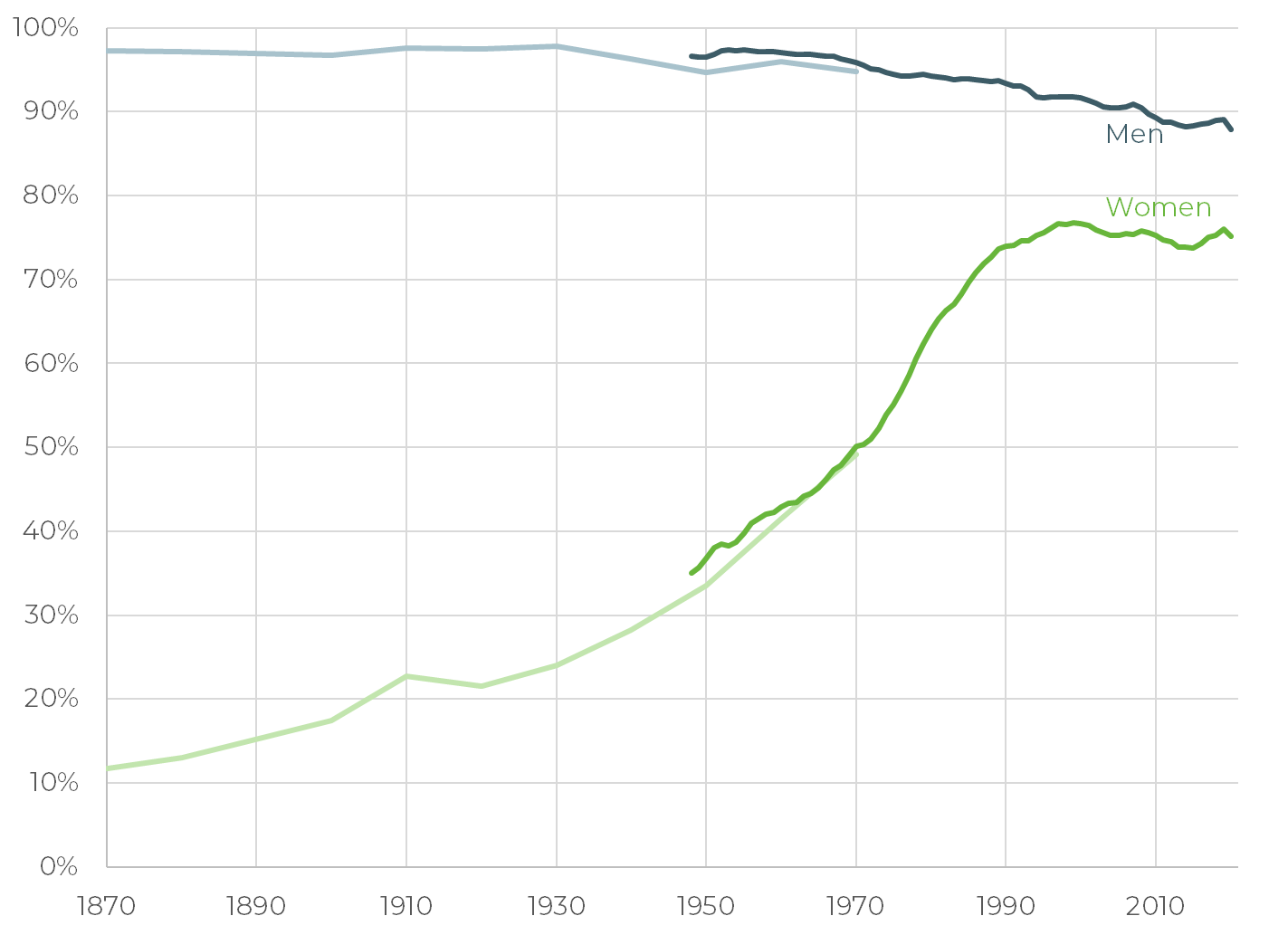 Source: Social Capital Project analyses of decennial census data and tabulations of Bureau of Labor Statistics estimates.[9]
More Education and Changes in Participation by Education
In 1940, only 5 percent of prime working-age Americans had been in college for at least four years, while 72 percent had less than twelve years of schooling (Figure 2).[10] The share with at least four years of college (BA+) more than doubled by 1970 to 13 percent and more than doubled again by 2000 to 29 percent. In 2020, 41 percent of prime working-age Americans have a bachelor's degree or a graduate degree. Over the same period, the share with less than twelve years of schooling fell to 8 percent and fell to 5 percent among native-born Americans. Today, the median prime working-age American has at least some post-secondary education, while in 1940 a similar person had no more than an eighth-grade education.
Figure 2. Composition of Prime Working-Age Educational Attainment, 1940-2020
Source: Social Capital Project analysis of decennial census and Current Population Survey data. See endnote 9.
As Americans have become more educated, labor force participation trends differ for those with more and those with less schooling. Figure 3 shows that labor force participation rises with education, and the participation trends for men and for women follow the same broad pattern as in Figure 1, regardless of education level. However, the decline in male labor force participation and rise in female participation vary by level of schooling.[11]
Figure 3. Prime Working-Age Labor Force Participation by Sex and Educational Attainment, 1940-2020
Source: Social Capital Project analysis of decennial census and Current Population Survey data. See endnote 9.
In 1940, labor force participation was nearly identical for prime working-age men across all education levels, differing by just 1 percentage point. By 2020, participation had only declined to 94 percent for men with a bachelor's degree, but fell to 86 percent for those with a high school diploma or some college attendance, and 78 percent for those with less than a high school degree.
Among women, participation in the labor force was unequal in 1940 across educational categories, but participation rose for all three groups through the 1990s. Women without a high school diploma fell behind other women over time. In 2019, the most educated women were near peak participation and were more likely to be in the labor force than the least-educated men. That remained true in 2020 as well, even as labor force participation rates declined across demographic groups.
Interpreting these trends is difficult because of rising educational attainment across the entire population. While Figure 2 does not break trends out by sex, in 1940, three in four working-age men lacked a high school diploma, and barely one in 20 had a bachelor's degree. Today, just 9 percent are in that lowest category and over one-third have at least a bachelor's degree. Labor force participation fell substantially among men who drop out of high school, but very few men drop out today, and therefore those that do drop out may be presumed to be less attractive employees relative to men in 1940 who did not graduate high school. Similarly, college graduates are a less rarified group today than they were in 1940, so it may be unsurprising that their labor force participation rates fell somewhat. Educational trends for women are similar. We will return to the complications raised by trend analyses for different educational groups when we investigate wages below.
Larger Foreign-Born Population
Trends for those with less than a bachelor's degree would look even worse if not for the higher rates of labor force participation among the foreign-born population. This group can be tracked only since 1994, but the foreign-born share of the working-age population roughly doubled since then, rising from under 12 percent to 22 percent in 2020.[12] Between 1994 and 2020, the labor force participation rate among working-age native-born men without a high school diploma fell from 74 percent to 65 percent, but among their foreign-born counterparts, participation rose from 87 to 90 percent. That was nearly as high as the participation rate in 2020 of native-born male college graduates (94 percent).[13]
As shown in Figure 2, the foreign-born working-age population is about as likely as native-born Americans to have a bachelor's degree or more, but it is much less likely to have a high school education. In fact, roughly half of working-age men without a high school diploma today were born outside the United States. Due to low birth rates among native-born Americans, it is expected that by 2024, immigration will account for the majority of U.S. population growth, which will continue to change the education composition and average wage measures of the labor force.[14]
Shift from Production to Service
The share of jobs in agriculture and related services fell from over half of prime-age labor force participants in 1870 to less than one in twenty by 1970 (Figure 4).[15] Though the share was continuously falling, the number of workers in agriculture peaked in 1910. In fact, there were more agriculture-related workers in 1950 than there were in 1870, and there are only 25 percent fewer today.[16] Rather than the agricultural sector shrinking in absolute terms, it simply grew by much less than other sectors and much less than the total workforce. Similarly, the largest share of prime-age workers were in manufacturing between 1930 and 1970, with a peak in 1960, yet the number of prime-age manufacturing workers peaked in 1990. Today there are still more manufacturing workers than in 1950.[17] Since the 1960s, manufacturing lost ground relative to the service sector and wholesale and retail trade industries.
Figure 4. Distribution of Employment by Industry among Prime-Age Workers, 1870-2020


Source: Social Capital Project analyses of decennial census and Current Population Survey data. See endnote 14.
Shifts in the Skill Requirements of Jobs
Occupational skills are most often organized along two dimensions, grouping occupations into four types: non-routine cognitive (management, professional, and technical jobs), non-routine manual (service jobs), routine cognitive (sales and office jobs), and routine manual (production, transportation, materials moving, natural resources, construction, and maintenance jobs).[18]
Figure 5. Distribution of Employment by Occupational Skill Set among Prime-Age Workers, 1870-2020


Source: Social Capital Project analyses of decennial census and Current Population Survey data. See endnote 16. "Routine manual" includes production, transportation, materials moving, natural resources, construction, and maintenance jobs. "Non-routine Manual" includes service jobs. "Routine Cognitive" includes sales and office jobs. "Non-routine Cognitive" includes management, professional, and technical jobs.
Over the long run, the clear picture is a decline in the number of routine manual jobs relative to cognitive jobs, especially non-routine cognitive jobs.[19] Non-routine jobs, both cognitive and manual, grew faster over recent decades than jobs that involve routine work.[20] In 1960, just under half (44 percent) of prime-age workers were in routine manual jobs, compared with just one-fifth (20 percent) in non-routine cognitive jobs. In 2020, those figures have flipped: 23 percent of prime-age workers are in routine manual jobs and 45 percent are in non-routine cognitive jobs, as shown in Figure 5. This reversal corresponds with changes in the educational attainment of the prime-age workforce. Figure 2 shows that from 1960 to 2020, the share of the prime-age population with less than a high school education fell from around 50 percent to less than 10 percent, while the share who graduated from college rose from less than 10 percent to 40 percent.
The Rise of "Disconnected Men"
Prime-age men's LFPR peaked at over 97 percent in 1955, slowly declined to 90.5 percent in 2008, and then dropped to 88 percent by 2014, as indicated in Figure 1. It inched up from there, but pre-pandemic it was only 89 percent in 2019. With the onset of the pandemic-induced recession in 2020, prime-age male labor force participation fell below 88 percent in April 2020, a record low. The pandemic may have worsened decades-long trends in declining workforce attachment, especially among lower-income prime-age workers.[21]
Men who are not in the workforce are also increasingly less likely to seek employment. Since 1964, there have been more jobless prime-age men who are not looking for work than jobless prime-age men who are actively looking for employment. This has been true in every year except 1982 and 1983. Even during the COVID-19 pandemic when unemployment reached 14.8 percent, on an annual basis, the growing population of inactive men still outnumbered those actively looking for work in 2020.[22] Until the early 2010s, there were typically only one or two inactive prime-age men who were not looking for work for every one prime-age man looking for work. In 2019, there were four times as many prime-age men out of the labor force as there were unemployed and looking for work.[23] Inactivity among prime-age men has risen over time, and risen significantly in the more recent past.
Prime-age men not looking for work are unlikely to have recent ties to an employer and are unlikely to have recently engaged in looking for work. One study found that among prime-age men out of the labor force in a given week in 2015, only 17 percent had participated in the labor force at some point in the previous year.[24] The proportion of prime-age men with these weakened ties or no recent connection at all to work or looking for work is growing. The share of men in their prime working years who neither worked nor looked for work in the previous year rose from 4 percent in 1976 to 10 percent in 2019.[25] These men are disconnected from work altogether.
Another way to think about the inactive population is by differentiating between workers who are entirely inactive and those who cycle in and out of the labor market. Economist John Coglianese finds that these "in and out" workers account for anywhere between 20 percent and 40 percent of the decline in participation among prime-age men between 1984 and 2011.[26] Our research suggests that men who cycle in and out of the labor force are concentrated in households with another worker.[27] By comparison, men who drop out entirely are more likely to live alone and receive transfer income, or government benefits.[28]
A large majority of the out of work force prime-age male population, 82 percent, does not have a bachelor's degree.[29] In the last twenty years, inactivity rose the most among men without a college degree and among those who previously earned low wages.[30] These men are disproportionately likely to live in rural localities—particularly in the Southeast.[31]
Costs of Disconnection
While each of the labor market trends above are interesting and interrelated, the unprecedented rise of disconnected prime-age workers will be a major focus of the remaining report. For men, this trend goes back half-a-century. Receding female workforce participation began in the last few decades. Mothers may have experienced some of the largest employment impacts of the coronavirus pandemic, although early data suggests employment has since rebounded considerably for women, bringing their employment losses in line with those experienced by men.[32]
Many men outside the labor force have legitimate reasons, including school, retirement, or taking care of home and family—in 2017, 13 percent were in school, 9 percent were taking care of family members or homemakers, and 6 percent were retired. Still many other men outside the labor force are unambiguously disabled, and others receive disability payments but would have worked in past eras—as of 2017, just under half (47 percent) of prime-age men out of the labor force described themselves as disabled. Still, about a quarter (24 percent) of inactive men fall into none of the above categories.
For men in the latter category, labor market disconnection represents a tremendous loss of economic potential, and carries equally steep social costs. Rather than channeling time toward community-supporting activities (volunteering or caring for loved ones) or self-improvement (education or job training)—disconnected men tend to withdraw. In "Inactive, Disconnected, and Ailing," the Social Capital Project reported that disconnected men are twice as likely as employed men to say that they do not get invited to do things, would find it hard to get help with a move, and do not have someone available to share fears and worries.[33] Only half are married and living with a spouse—compared to two-thirds of employed men—and a quarter live alone.[34] They spend nearly 30 percent of their time alone and fill much of their days consuming media through television, video games, and the internet.[35]
Prolonged idleness can bring terrible consequences. Many disconnected men subsist on government benefits while their skills atrophy and their potential as workers, husbands, fathers, and citizens diminishes. Detached from the labor force, these men lose what work brings: economic independence, but also the respect of others and self-assurance associated with it. Survey data show that disconnected men are less satisfied, less happy, more stressed, and more depressed than their employed counterparts.[36]
This crisis cannot be attributed primarily to economic discouragement or an absence of available jobs. In February 2020, just two percent of prime-age men out of the labor force met the official definition of a "discouraged worker"—someone who wants a job, is available to work, and who looked for work in the past year but has not looked in the past four weeks due to economic reasons. In June 2020, that figure was still under three percent.[37] Only six percent of men who were inactive throughout 2018 indicated that the main reason they did not work was that they could not find a job,[38] and the men who could not find a job account for very little of the rise in non-working men over the long run.[39] In fact, the evidence suggests that three quarters of men outside the labor force in a given week prefer not to work (at least at the jobs on offer).[40]
Many disconnected men experienced challenging childhoods and unstable home life. Interviews with 30-36 year-old men by the BLS found that "Nonworkers not only are more disadvantaged in many aspects of their current lives—such as education, health, incarceration, and finances—but they also were disadvantaged earlier in their lives in terms of family and neighborhood background."[41] Male non-workers were less likely to grow up with two parents, and more likely to have a mother who gave birth as a teenager, to experience higher neighborhood poverty, to experience gun violence between ages 12 and 18, and to be arrested before age 18. Many of these characteristics echo issues associated with family instability highlighted in the Social Capital Project report, "The Demise of the Happy Two-Parent Home."[42] The BLS data also suggests that health issues and incarceration are the two most likely explanations for the inactivity of prime-age men.[43] These non-workers are also more likely to be financially supported by a parent they live with and to receive government transfers themselves or with a spouse or partner.[44]
Men who are voluntarily out of the labor force presumably know best whether or not they would be happier working. Many of these men may be in school, full-time parenting, or enjoying early retirement. Policymakers should not worry about these men. To the extent that there are inactive men with the capacity for independence who subsist in large measure on government transfers, policymakers should prioritize removing disincentives to work from government programs and investigate other ways to encourage a return to work. The economy would be more productive and civil society more vibrant if inactive workers could be reintegrated into the workforce.
Explanations for Declining Labor Force Connection
Why are fewer prime-age Americans in the labor force? While the question sounds simple, the answer is far more complex. The explanations generally include some combination of declining employer demand for workers, especially for workers with lower levels of educational attainment, and shrinking supply, as more workers choose not to supply their labor, due to changing preferences or external incentives.
Many popular demand-side explanations blame weak wage growth, technological change, and international trade as key forces that have an outsized effect on workers without a higher education. There may be some truth in these accounts. Relative to those with high educational attainment, Americans with less schooling may be less in demand than they were fifty years ago. Properly analyzed, however, the evidence does not suggest that these demand-side forces have made it significantly more difficult to find well-paying jobs even for those with less-marketable skills. Prior to the pandemic, the tight labor market delivered broad benefits to working Americans, with especially large wage gains accruing to the lowest wage workers.[45] Meanwhile, analysts often overlook explanations that emphasize changes in worker preferences, the incentives faced by workers who rely on government assistance, and other government-imposed barriers to work.
Declining Pay for Workers with Less-Marketable Skills?
If demand fell for workers whose skills command less in the labor market, we would expect that hourly wages should have fallen over time. And it is easy to find studies that report wages are indeed falling. One investigation in a leading economics journal recently reported, "for groups without a college degree, real hourly earnings were substantially lower in 2015 than they were in 1973" among prime-age men.[46] As we will see, while some measures of some men's pay declined from around 1970 through the early 1990s, they subsequently fully recovered, even among lower-wage workers. While relative stagnation is not cause for celebration, this finding does cut against the narrative that more men would be participating in the labor force if not for declining pay. Additionally, women's pay grew steadily during this time.
Analyzing wage trends is complicated due to changes in the makeup of the workforce over the years. The data for median wage and salary trends begins in 1973, making any longer-term trends for prime-age workers more difficult to determine. And given that 1973 represents a relatively high benchmark before declining until the 1990s, comparisons of wages today to 1973 obscure the growth since the early 1990s.
Figure 6 provides historical context. The chart shows hourly wage trends for the typical worker over the 80-year period from 1939 to 2019.[47] The trend line extending farthest back in time is not confined to prime-age Americans, but it is limited to subsets of private workers. It shows averages for these subsets in each year rather than medians. Fortunately, as is evident in the chart, this trend appears to be a good proxy for the median wage trend for prime-age workers, which is the shorter trend line in Figure 6.
Figure 6. Trends in Real Hourly Wages for the Typical Worker, 1939-2019
Source: Social Capital Project analyses. See endnote 47 for details.
World War II complicates the data from the earliest years, but from 1946 to 1973, wages rose 83 percent over 27 years after taking inflation into account, or 2.3 percent per year. From 1973 to 2019, median hourly pay rose just 13 percent over 46 years, or 0.3 percent per year.
Note that a 13 percent change in the median does not mean that the typical worker in 1973 was only 13 percent better off after 46 years. The median worker is the one in the middle, better off than half of workers and worse off than half. The 1973 median worker was not still at the median in 2019. Most workers see their pay rise over time as they gain more experience and secure better jobs; a twenty-year-old in 1973 retiring at 66 in 2019 would only rarely have seen an increase in pay as low as 13 percent. A 13 percent change in the median simply means that the worker in the middle in 2019 was 13 percent better off than the worker in the middle in 1973.
Importantly, the period since 1973 encompasses two very different eras. From 1973 until 1991, median hourly pay actually fell six percent. But since 1991, it rose 21 percent. That amounts to an increase of only 0.7 percent per year, however—well short of the growth seen in the immediate post-war decades.[48] While the year 1973 constitutes an obvious inflection point for growth in pay, using 1973 as a breakpoint for wage growth analysis systematically negatively biases post-1973 wage growth figures as compared to using any other year.
This overall post-1973 trend conceals variation important for interpreting changes in the labor force. The middle line in Figure 7 re-displays the trend in median hourly pay from Figure 6 and combines men and women. However, Figure 7 reveals that the experience of these two groups differed dramatically.[49] The pay of the typical woman, though lower than for the typical male worker throughout the period, rose by 47 percent from 1973 to 2019. It even rose in the earlier period—by 12 percent between 1973 and 1989 (both business cycle peaks). Undoubtedly, this increase reflects the increasing opportunities enjoyed by women over the 1970s and 1980s. Women—especially married women—moved into occupations beyond the traditional ones to which many were confined in an earlier era, and they accumulated more work experience than in the past.
Figure 7. Trends in the Real Median Hourly Wages of Prime-Age Workers by Sex, 1973-2019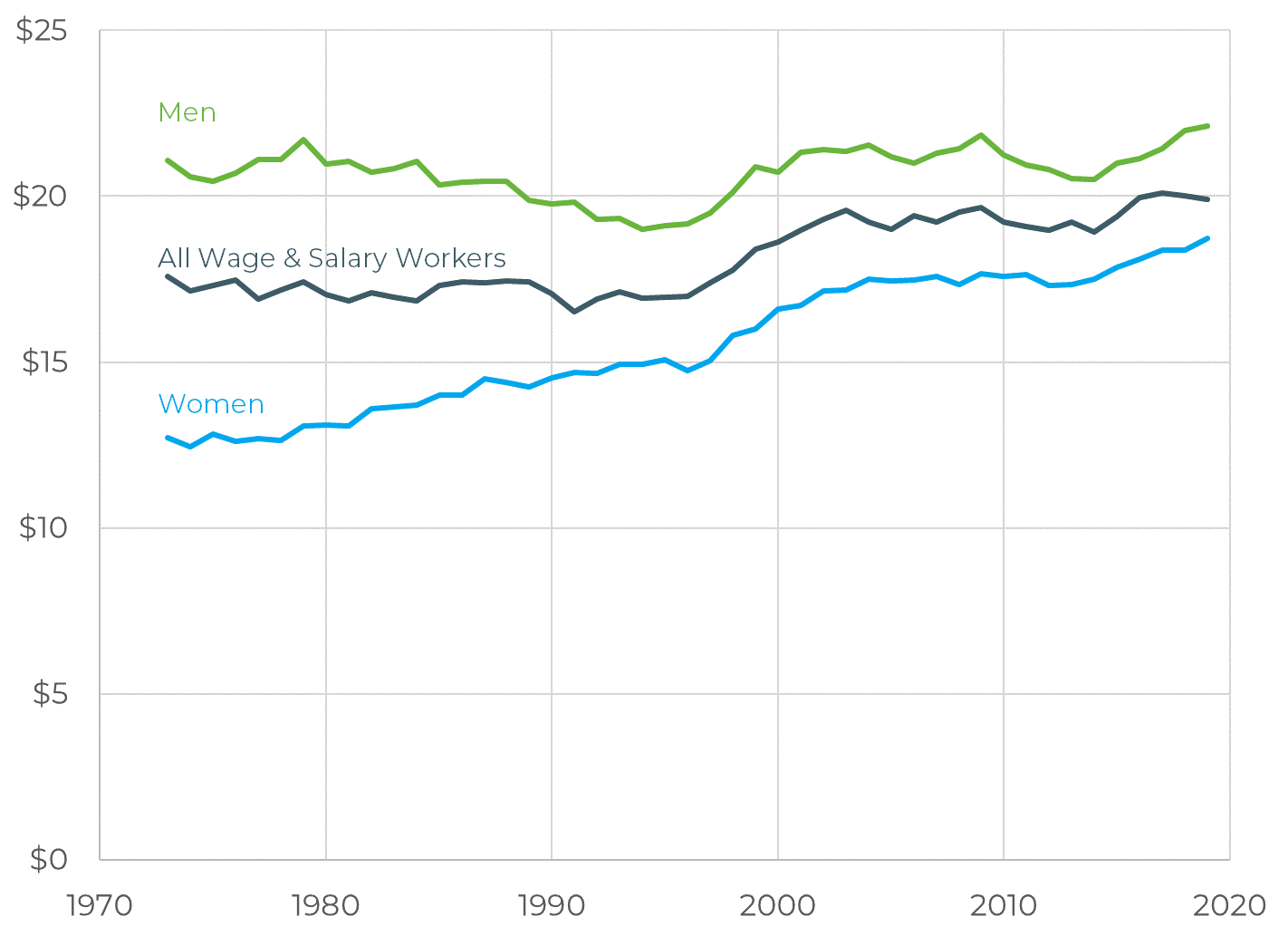 Source: Social Capital Project analyses of Current Population Survey data. See endnote 47 for details.
Among prime-age men, the story was less rosy. Pay rose by just 5 percent, and that reflects a recovery from a 21-year period of decline. At its low point, the hourly pay of the typical male worker had fallen by 10 percent. But from 1994 to 2019, men saw an increase of 17 percent—not far off of the 25 percent increase among women. Whatever the causes of wage "stagnation," they operated primarily to reduce wages among men during the 1970s, 1980s, and during the recession of the early 1990s. Despite the ups and downs of the business cycle, the trajectory of pay over the past 25 or 30 years has been upward for both men and women.
The rest of the wage analyses in this section focus on the pay of male workers, since their trends have been a significant driver of policy discussions around inactive workers and connections to work. Trends in women's pay and work participation are also an important topic of study. However, it is men who have experienced the biggest and longest-running declines in historical levels of work participation and some researchers claim these same men have experienced declining pay. Female workers have benefited from fairly consistent wage growth over the same time period.
To investigate the possibility of declining pay for some workers, researchers tend to focus not on overall wage trends but on the different trends among prime-age men according to educational attainment. Figure 8 displays median wage trends for prime-age men at five different levels of educational attainment.[50] The chart indicates that wages were lower in 2019 than in 1973 among men who lacked a four-year college degree—down 13 percent among those lacking a high school diploma, down 16 percent among those with a diploma but no other schooling, and down 12 percent among those with some college but no bachelor's degree. Between 1973 and 2019 wages rose 15 percent among prime-age men with a bachelor's degree but no graduate degree, and they rose 43 percent among those with a graduate degree.
Figure 8. Trends in the Real Median Hourly Wages of Prime-Age Men by Educational Attainment, 1973-2019
Source: Social Capital Project analyses of Current Population Survey data. See endnote 47 for details. Educational attainment is based on years of schooling completed through 1990 (less than 12, 12, 13-15, 16, more than 16) and on a combination of highest grade completed and degree attainment thereafter (first grade up to twelfth grade but without a diploma, high school diploma or GED, some college but no more than an associate's degree, bachelor's degree, master's/professional/doctoral degree.
However, analyzing wages by educational attainment ignores the fact that, as Figure 2 shows, the workforce is growing more educated over time which changes the composition of the education groupings. For instance, looking at men without a high school diploma means assessing the wages of the least-educated 30 percent of men in 1973 but the least-educated 10 percent of men in 2019. The group became much more disadvantaged over time, so all else equal, its pay would have fallen even if the pay of the bottom 30 percent did not. Similarly, in 1973, 19 percent of men were in one of the top two groups, but nearly 38 percent were in 2020. Therefore, the men in those top groups were less "elite" in 2020 than 47 years earlier.
A better way to assess wage trends for less- and more-advantaged workers is to look at wages at fixed points of the wage distribution. The median wage earner is the one in the middle of the distribution. The earner at the 10th percentile is the one with higher wages than 10 percent of workers but lower wages than 90 percent of workers. Figure 9 shows wage trends for prime-age men at different percentiles. As indicated above, the median male worker saw a wage increase of 5 percent between 1973 and 2019. Below the median, the 10th percentile of wages rose 3 percent, and the 30th percentile fell 3 percent. Above the median, wages grew by 24 percent at the 70th percentile and by 42 percent at the 90th.
Figure 9. Trends in the Real Hourly Wages of Prime-Age Men by Wage Percentile, 1973-2019
Source: Social Capital Project analyses of Current Population Survey data. See endnote 47 for details.
After 1994, the 10th percentile rose by 28 percent and the 30th percentile by 18 percent. Measuring from the high-water mark of 1973 to 1994, no one did well; even the 90th percentile of male pay rose only 6 percent, and the 70th percentile increased by just 1 percent. At the 10th percentile, hourly pay was 20 percent lower in 1994 than in 1973. The fact that men at the top did poorly over this period complicates explanations for wage stagnation that focus on manufacturing jobs, globalization, and the decline of union power, all of which usually predict wage divergence or polarization rather than a period of little change at all. Each of these explanations of wage trends tend to describe largely constant forces before and after 1994. Thus, theories that predict wage polarization or wage stagnation only among lower-wage workers struggle to account for the earlier period of consistent pay stagnation across all income groups. The sudden divergence in the mid-1990s does not fit the typical story.
Another issue missed by wage trends is that over time, non-wage compensation became a greater share of pay. Non-wage compensation includes employer contributions to employees' health and other insurance, contributions to retirement savings, and the payroll taxes they pay toward federal and state social insurance programs. These contributions were 13 percent of compensation in 1973 but 19 percent in 2019.[51] Figure 10 shows the same percentiles as in Figure 9, but this time wages at each percentile are adjusted upward by the same factor to account for non-wage compensation growth.[52] This factor adjustment still likely underestimates the growth in compensation, particularly for the lower deciles for whom non-wage compensation often makes up a larger share of total compensation.[53]
Figure 10. Trends in the Real Hourly Compensation of Prime-Age Men by Percentile, 1973-2019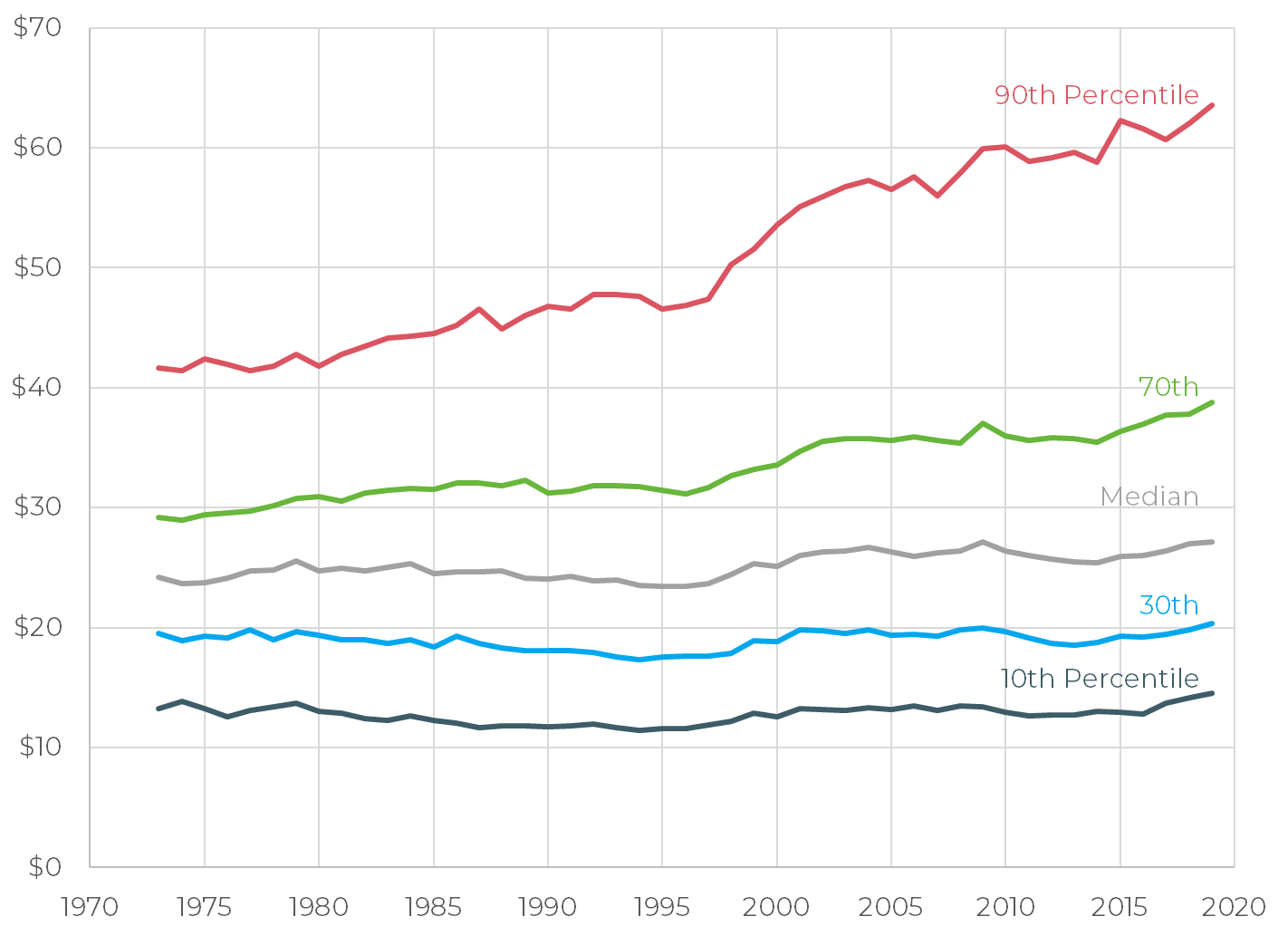 Source: Social Capital Project analyses of Current Population Survey data. See endnote 52 for details.
Broader measures of compensation show more growth than a simple accounting of only wages. While median hourly wages among prime-age men rose 5 percent from 1973 to 2019, median hourly compensation rose 12 percent. At the 10th percentile, wages rose 3 percent and compensation rose 10 percent during the same time period. Instead of falling, the 30th percentile of hourly compensation rose by 4 percent, and the 70th and 90th percentiles rose by 33 percent and 52 percent.
One potential problem with using hourly wage and compensation trends is that they fail to capture changes in the annual hours that prime-age men work. Further, they do not account for the self-employed. Annual compensation can measure financial well-being more accurately for some workers if they choose to work additional hours or take on part-time work to supplement their other income.
Rather than showing trends in hourly wages, Figure 11 displays the trend in median annual earnings.[54] Line 1 shows the trend in annual wage and salary income among those who have no self-employment earnings. From 1973 to 2019, the increase in the annual median was 6 percent, compared with a 5 percent rise in the median hourly wage of prime-age men. Adding nonwage compensation (Line 2) leads to a 14 percent increase (compared with 12 percent for hourly compensation).[55] It turns out that adding the self-employed (and their earnings) to this sample does not change that conclusion: median annual compensation (Line 3) rises 13 percent.[56] At the 10th percentile (not shown), annual compensation (including the earnings of the self-employed) rose 4 percent, compared with 10 percent for the 10th percentile of hourly compensation among employees. In this case, lower annual compensation compared to the hourly measure is likely because more workers at the 10th percentile do not work consistently throughout the year or work fewer hours overall.
Figure 11. Trends in Real Median Annual Earnings of Prime-Age Men, 1973-2019
Source: Social Capital Project analyses of the Annual Social and Economic Supplement to the Current Population Survey. See endnote 54 for details.
A final criticism of the trends shown in this section is that we cannot observe the compensation of non-working prime-age males who have dropped out of the labor force. It may be that the only reason compensation seems to have risen is because would-be workers with low compensation are more likely to drop out of the data. In this telling, demand for less-skilled workers may have fallen, but the charts above fail to show it because they only look at men who continue to work.
Line 4 of Figure 11 attempts to address this criticism by displaying a counterfactual trend. Respondents in the Current Population Survey data who did not work in the previous year are asked why they did not work. The possible answers include inability to find work, being sick or disabled, taking care of home or family, going to school, retirement, being in the Armed Forces, or "other." Imagine that nonworking men who were disabled, sick, retired, or said they were nonworking for 'other' reasons not listed did not become a larger group between 1973 and 2019 relative to workers. Further, imagine that all these additional men who would have been working would have been below-median workers had they held down jobs. Finally, imagine that in every year all men with no earnings who said they could not find work had worked at below-median compensation. Line 4 in Figure 11 attempts to say what the trend in prime-age male compensation would have been under those counterfactual circumstances.
According to this counterfactual trend, the annual compensation of prime-age men still would have risen by 11 percent (instead of 13 percent).[57] Note too that annual compensation estimates include men who worked part of the year before leaving the workforce, some with no intention of coming back anytime soon. For such men, their annual compensation is a poor indicator of what they command in the labor market, and if such men grow more common in the data over time, it will tend to pull the compensation trends downward. If pay growth is stronger for men with stable connections to the workforce, then the counterfactual of annual compensation may also conceal the growth in pay among below-median workers with consistent labor force connections. Given this, the growth in annual compensation over time is very likely understated for men consistently participating in the workforce.
In summary, the bulk of the evidence suggests an upward trajectory of pay over the past 25 or 30 years for men and even more so for women. Following a long post-WWII boom, wage growth paused before returning to a respectable growth path in the 1990s. By choosing arbitrary time intervals, or narrowing the analysis to constantly shifting education cohorts, it is possible to tell a more pessimistic story. However, even these more stagnationist formulations tend to show constant, rather than declining pay. The reality of any given worker's wage trajectory is likely even rosier as medians and averages fail to tell the story of an individual's wage growth over their career or resulting from skill acquisition and work experience.
Pay Lagging Productivity?
Still other explanations for declining male prime-age participation sidestep whether pay increased and instead assert that pay should have increased faster than it did. Many analysts claim that wage growth has decoupled from worker productivity, so that workers increasingly make less than the value of what they produce. Had pay risen as fast as productivity, more people would have stayed in the workforce. However, aggregate and median pay seem to have kept up with their comparable measures of productivity.
In order to properly assess how worker productivity tracks with pay, a number of adjustments need to be made in order to compare like with like. This means using average hourly compensation of all workers, adjusting compensation and productivity for inflation with the same price index, and using a productivity measure that excludes activities not associated with production.[58]
Productivity measures the total production of the economy divided by the total hours worked—if the economy can produce more goods and services with fewer person-hours, productivity increases. Measures of compensation represent what is given in exchange for time spent working. Choosing the best variables to approximate these definitions is crucial in order to appropriately measure the link between compensation and productivity. For economic production, the measure best suited for comparison with compensation is Gross Domestic Income (GDI), which measures the total income paid to produce things and approximately equals GDP, which measures total purchases. Several components of GDI should still be excluded as they are not related to income paid for production (i.e., depreciation, net indirect taxes, rental income allocated to homeowners, and proprietor's income). Self-employment income should also be excluded from the production measure because it is not captured in the measurements of hourly pay. For the most comprehensive measure of hourly compensation it must include not just wages and salaries but also benefits, such as employer-provided health care, that are a growing portion of workers' earnings. Both variables must be adjusted using the same inflation measure, as differences stemming from the use of two different price indices may obscure the trends.
Figure 12 walks through each of these adjustments to the productivity and compensation data, updating work by labor economist James Sherk.[59] The two bolded lines below (light green for adjusted productivity and lightest blue for adjusted compensation) use the same implicit price deflator to show how wages and productivity remain closely associated with one another. The top green line shows growth in net hourly productivity for all workers including the self-employed. Proponents of the pay-productivity gap often present just the top line and the bottom dark blue line showing average hourly compensation of production and nonsupervisory workers. By using a broader measure of workers (medium blue line) and using more accurately comparable measures of inflation, the pay-productivity gap all but disappears. The medium blue line is adjusted using the Personal Consumption Expenditures (PCE) index which approximates inflation for the things people regularly purchase. The lightest blue line is adjusted using the implicit price deflator (IPD) a better measure of price changes for the things Americans actually produce and is more directly comparable to measures of the associated changes in productivity. Comparing the lightest blue line to the light green line, more accurately aligns net hourly productivity with average hourly compensation using the same implicit price deflator and a similar universe of workers.
Figure 12. Adjusting for Proper Comparison of Compensation and Productivity Growth
Source: Social Capital Project analysis and James Sherk, "Workers' Compensation: Growing Along with Productivity," Heritage Foundation, May 31, 2016, https://www.heritage.org/jobs-and-labor/report/workers-compensation-growing-along-productivity.
The pay-productivity gap is the subject of extensive research, with a number of high-quality studies confirming that compensation and productivity have not significantly diverged over time.[60] While some of this research shows some divergence after 2000, others confirm the continued close association shown in Figure 12.
Former Treasury Secretary Lawrence H. Summers and Anna M. Stansbury find that the link between productivity and compensation remains intact for both the median and average worker, despite a degree of weakening since 2000.[61] Similarly, Robert Z. Lawrence notes that wages are associated closely with productivity over the 1970-2000 period and likely through 2008 when measured properly.[62] Measuring over the 1973-2016 period, former Council of Economic Advisers (CEA) Chairman Jason Furman notes that when measured properly, evidence at both the macro and micro levels demonstrate that productivity growth and wage growth are connected.[63]
Not only is overall growth of hourly compensation and productivity nearly in lockstep over the 1973-2007 period, but median hourly compensation gains for women in particular nearly tracked net productivity gains over the same timeframe, complicating theories that typical worker pay has stagnated.[64] Economist Evan Soltas also examines the link between labor compensation and productivity at the industry level, finding that changes in productivity at this more detailed level explain nearly all of the changes in hourly labor compensation over the 1987-2013 time period.[65] Supporting Soltas' findings, additional research shows that the relatively slow productivity growth of the average firm in a given sector masks the most productive firms' productivity gains, including within the manufacturing and services sectors.[66] The widening dispersion of industry and firm productivity growth rates can also be observed at the worker level; measures of median pay have not grown as quickly as overall productivity.[67] This does not mean that an individual worker's pay is disconnected from productivity. If we had a measure of median productivity it might very well track median pay.[68] In essence, the majority of the evidence shows that workers continue to be paid for what they can produce but differences in productivity growth between firms and across sectors may be increasing.
This also means that, contrary to many claims, labor's share of income mostly held steady over time. As Sherk and others note, labor's share of net nonfarm business income has been remarkably stable since measurement first began in 1973. The evidence of the stability of labor's share of GDP is so strong that the Congressional Budget Office builds the stability of the labor share of GDP into forecast models, assuming a reversion to the long-term average since World War II.[69] This is yet another affirmation of worker wages keeping pace with productivity, as this share would have fallen dramatically if wages and productivity did in fact "de-couple."[70]
Even though the link between productivity and worker wages remains intact, productivity has slowed, particularly since the Great Recession, averaging 1.5 percent growth annually between 2007 and 2020.[71] Productivity growth was also relatively slow in the 1973-1990 periods, growing an annual average of less than 2.0 percent. The productivity slowdown in the 1970s is not just a U.S. phenomenon but a poorly understood global trend that could be due to technological change, changing regulatory environments, aging populations, or other external factors.[72]
In the years since the Great Recession, changing demographics—namely an aging population—may be partly to blame for slow productivity growth in the U.S. Notably, recent research from Adam Ozimek, Dante DeAntonio, and Mark Zandi suggests that much of the decline in the undergirding of innovation and technological improvements that drive productivity growth is slowing down due to the large demographic influence of older workers impeding the adoption of technological improvements. They find evidence that, across states and industries, an aging workforce slows productivity growth by a quarter to a full percentage point.[73] The authors argue that this effect is large enough to explain a significant portion of slowing productivity growth and subsequent wage growth. They expect the trend of an older population to continue to slow the adoption of disruptive technologies that drive productivity for some time. There is some initial evidence that older workers retired at a record pace in 2020, at least in part due to the pandemic, although the relative permanence of this trend or the magnitude of its effect on productivity is highly uncertain.[74]
Skill-Biased Technological Change Affecting Distribution of Labor Compensation?
Even if wages have not decoupled from productivity, another line of research suggests that increasing technological advances may have lowered the demand for and potential return to certain types of low-skill jobs.
Beginning in the late 1990s, a theory of skill-biased technological change (SBTC) was used to explain increasing wage inequality. While wages across the distributions were still growing, the highest-paid workers have seen the fastest wage growth (Figure 10). First posited in 1998 by David Autor, Lawrence Katz, and Alan Krueger, the early theory of SBTC claimed that technological advancements increase demand for higher-skilled workers. As the supply of highly-educated workers fails to keep up with the constant march of technology fueled demand, firms must pay a wage premium to high-skill, typically highly-educated workers with a college degree.[75]
While still widely discussed, this early formulation of SBTC has failed to explain key wage trends in the 1990s and 2000s, namely the proliferation of computerization during an era of declining wage inequality.[76] Promoters of the early theory reformulated their explanation in a "tasks-based framework" where computerized automation creates a cheap substitute for easily routinized manual and cognitive work.[77] The task-based framework is characterized by a prediction of "job polarization" where demand for middle-skill jobs, such as in white-collar clerical and blue-collar production sectors, decline as automation and increasing global integration allow lower-wage workers in foreign countries to displace workers in industrialized countries.[78] The same technological advancements also increase relative demand for cognitive and manual non-routine work.[79] This dynamic is said to lead to a hollowing out of the labor market as job polarization at the top and the bottom increase.
Like early formulations of the SBTC story, the task-based theory faces a number of compelling critiques. A number of researchers find that the decline in what are termed middle-skill jobs is mild at worst, failing to conjure the dramatic disappearance that the word "polarization" implies. In a comprehensive review of wage trends and the SBTC literature, Lawrence Mishel, Heidi Shierholz, and John Schmitt conclude "that occupational employment trends give only limited insight and leave little imprint on the evolution of the occupational wage structure, let alone the overall wage structure."[80]
Economists Harry Holzer and Robert Lerman find little evidence for a hollowing out of the job market. They show that middle-skill jobs as a share of all jobs shrunk by 7 percentage points between 1986 and 2006, but the relatively modest decline was almost entirely compensated for by increases in high-skilled jobs. Low-skill job shares only increased by 1 percentage point.[81] Extending Holzer's and Lerman's analysis to 2019 reveals that high-skill jobs now comprise about the same share of U.S. employment as middle-skill jobs, continuing the trend of occupational up-skilling, not hollowing out.[82] In 2020, as the pandemic led to the loss of many low-skill service sector jobs, the share of middle-skill jobs remained the same as in 2019, and the share of high-skill jobs gained two percentage points. There are still more middle-skill jobs today than in 1986, but they grew the slowest by comparison; high-skill jobs doubled and low-skill jobs grew by one-third.
Jennifer Hunt and Ryan Nunn break workers into high-, mid- and low-wage buckets and find that over the long-run "the shares of workers in the top and bottom [wage] groups generally move in opposite directions over the longer term as well, with the share in the top group rising markedly and the share in the bottom falling slightly."[83] The analysis also finds that there is so much wage variation within detailed occupational categories that looking at occupational groups is not useful for drawing conclusions about wage trends. Mishel, Schmitt, and Shierholz similarly show that "occupational upgrading" has been occurring since 1950, during times of rising and falling median wages and wage inequality.[84] These results taken together illustrate how a decline in the share of middle-skill jobs does not necessarily lead to a decline in the share of middle-wage jobs. More broadly, shifts in occupational trends are not indicative of polarization and polarization cannot account for shifts in wage patterns.
A SBCT-adjacent theory maintains that the economy is too dynamic and disruptive. That labor force participation has fallen steadily as workers fail to keep pace with the rapid shifts in industry, technological progress, and subsequent changes in skill requirements. While we cannot dismiss narratives regarding economic insecurity and discouraged workers outright, it is critical that we avoid misattributing the cause of labor trends to the wrong economic phenomena.[85] In the case of economic dynamism, the data suggest that the problem may be too little, not too much.
Dynamism across the American economy declined steadily over the last three decades on many different and meaningful margins. Brookings Institution research shows that labor market fluidity—encompassing job creation and destruction, job switching, and interstate migration—has been in decline since the 1980s and fell by double digits since the 1990s.[86] The new firm establishment rate declined by 41 percent between 1978 and 2018.[87] Fewer existing firms exit the market each year and the private sector job creation rate declined sharply between 1998 and 2008.[88] Workers also are switching jobs less often, and when people do switch jobs, the separation is initiated by the employee 60 percent of the time, suggesting stability in a majority of work arrangements.[89]
Instead of an economy that is changing so rapidly that workers are falling behind, the opposite seems more plausible. Worker productivity and wages might be better served from a more dynamic work environment. While technological change has certainly shifted the type and distribution of work over time, it does not seem to have meaningfully hollowed out middle-skill jobs or consistently affected the distribution of wages in any significantly measurable way.
Trade Exposure Pulling Down Pay and Slowing Job Growth?
Global trade is also often blamed for putting downward pressure on wages in some low-skill sectors and contributing to job losses in some types of American manufacturing. It is true that American firms now operate in an increasingly globalized trade environment, and American workers compete with and complement the relatively abundant low-skilled labor supply in developing economies. However, the simultaneous rise of idle prime-age men and American industries facing new competition from abroad does not necessarily mean one trend caused the other.
Increasing global trade has well-known trade-offs. Foreign-made goods mean lower input and inventory costs for American businesses, which can lower the cost of domestic manufacturing and boost net U.S. employment and real wages.[90] This outcome also translates into lower prices and greater savings for American consumers.[91] Yet, some American companies unable to compete with their foreign counterparts are forced to close, shrink, or move elsewhere—all of which may require lay-offs. In the face of greater competition, the more resilient domestic companies often rise to the challenge, responding with greater domestic investment and new innovations that carry benefits for American workers and consumers.[92] Competing popular narratives surrounding American trade policy tend to emphasize some of these trade-offs at the expense of others.
One trade narrative draws heavily on work by David Autor, David Dorn, Gordon Hanson, and their colleagues that analyzes the effects of China's entrance to the World Trade Organization (WTO) and subsequent increasing trade with China in the early 2000s—often called the "China shock." The research highlights the costs of trade liberalization, especially for individuals with relatively lower wages, little job experience or transferable skills, and less attachment to the labor force.[93] In a 2016 paper, Autor and co-authors find that the rapid increase of Chinese imports from 1999 to 2011 is associated with between 10 percent and 20 percent of the drop in manufacturing employment.[94] Andrew Bernard, Bradford Jensen, and Peter Schott find that imports from low-wage countries account for 14 percent of the drop in manufacturing employment between 1977 and 1997.[95] If policymakers take these estimates at face value, trade with China and other lower-wage countries only explain at most one fifth of the job losses during the period studied.
However, the often cited Autor-Dorn-Hanson conclusion that increasing trade explains depressed domestic employment is at minimum overstated and possibly misleading. For instance, economist Jonathan Rothwell examines the same Autor-Dorn-Hanson data but accounts for differing macroeconomic trends throughout time and by location. Rothwell shows, after making these adjustments, that the original effects on employment, labor force participation, and wage growth are not significant.[96] In her PhD research, economist Ildikó Magyari shows that firms exposed to Chinese imports reduced some parts of their U.S. business footprint but, contrary to the conventional wisdom, expanded in other areas. Firms exposed to trade with China actually created more net American manufacturing and nonmanufacturing jobs than non-exposed firms during the time studied.[97]
The often striking results that show job losses due to trade in particular sectors or for particular types of workers focus exclusively on losses due to trade without broadening the analysis to account for the winners of increased trade. Distributional questions aside, theoretical and empirical trade research almost unanimously find that expanded trade between countries increases total wealth for the citizens on both sides of the exchange by exploiting differences in comparative advantage and resource endowments.[98] Faced with new international competition, firms specialize in what they do best, relative to their competitors, which can cause labor markets to shift in ways that displace some workers while providing new opportunities for others, which increases productivity across the board.
Distributional questions are important, and at the same time should not be used to overlook the broad-based benefits of cheaper American manufacturing inputs and consumer goods as well all the net job gains in other sectors. Researchers from the Federal Reserve Bank of St. Louis, Lorenzo Caliendo, Maxmilliano Dvorkin, and Fernando Parro find that the China shock increased net U.S. welfare, but did so unevenly.[99] Their research shows how job losses tend to be concentrated in specific places, such as California, which has a high share of China-exposed computer and electronics jobs, and job gains tend to be geographically spread out in construction and services sectors. The concentrated job losses, while painful, were only temporary; in the long run, the researchers find that industry productivity gains and the ability of U.S. workers displaced by trade to find new employment with higher wages increased the welfare of workers in 96 percent of state- and sector-specific labor markets. Similar research from Spencer Lyon and Waugh, as well as Zhi Wang and co-authors, report positive results of trade exposure from China, finding that it increased aggregate welfare and produced net American job creation. They find that a minority of workers see no welfare effects or small declines in wages and job opportunities, especially lower-wage workers who compete more directly with foreign workers.[100]
Proponents of increasing trade often emphasize the net-benefits of trade to American workers and consumers, as well as the benefits to global markets. Critics of increasing globalization often fixate on the minority of workers who were exposed to additional competition due to an increase in trade with China and other nations. The disproportionate effect of trade adjustment on middle- and low-skill manufacturing workers and their communities should be acknowledged as likely a temporary contributor to prime-age men leaving the labor market. While some estimates suggest that trade disruptions immediately following China's entrance into the WTO may explain 10 percent to 20 percent of the labor force participation trend between 2000 and 2008, trade exposure is not likely an ongoing drag on prime-age male labor force participation. [101] The effects of the China Shock were a one-time phenomenon and by 2008 workers had largely adjusted to the new normal.[102] Indeed, subsequent research estimates that, post China shock, imports across all countries are positively associated with the creation of domestic manufacturing jobs because they reduce the cost of U.S. production.[103] Therefore, it is likely that removing barriers to trade with other countries in the future would encourage net job creation with more limited distributional variation in where jobs are created and lost.[104]
Government Programs and Policies Making Work Less Attractive?
Weakening employer demand and a deteriorating job market seem unlikely to explain a significant portion of the decline in prime-age male labor force participation given the discussion in the preceding sections. Supply-side factors can help fill much of this disconnect. Instead of looking primarily at employers, it may be more illuminating to place workers and the incentives they face at the center of the analysis.
One key piece of evidence that suggests labor force trends are driven largely by workers, not employers, is that the decline in prime-age labor force participation has been mostly voluntary, as told by the men themselves. Three out of four disconnected men say they do not want a job,[105] and only 12 percent of inactive, prime-age, able-bodied men said they wanted a job or were open to it in 2014.[106] If more men are genuinely choosing to stay home with the kids, go to school, or retire early, policymakers should not be concerned. However, government policies may be tipping the scales toward inactivity and away from work.
Policymakers should take note if would-be workers' inactivity is indeed enabled or encouraged by poorly structured government benefits or made more likely by unnecessary barriers to work. This is likely the case for the 41 percent of prime-age men who personally receive government assistance and are inactive for reasons other than disability, retirement, education, or homemaking.[107] In addition to the inactive population, a growing number of Americans in general receive government assistance, despite improving pre-pandemic economic conditions. The share of working-age Americans living in households between the 20th and 50th income percentiles who receive safety net benefits increased from 20 percent to about 30 percent between 1998 and 2014.[108] This growth in safety net benefits likely makes non-work more attractive and has contributed to declining labor force participation.
A significant body of empirical evidence suggests that government transfers—especially those without work requirements—tend to lower employment.[109] For example, labor force participation and earnings fall after receiving housing assistance,[110] losing Medicaid coverage increases employment[111] and gaining the coverage can reduce it,[112] and the introduction of the food stamp program in the 1960s and 1970s decreased employment significantly.[113] A series of temporary income support trials also find that disincentives to work generally increase with the size and duration of the benefit, although the effects are often smaller than predicted.[114] More recent evidence following the Great Recession shows how the expansion of safety net benefits undermined the rewards to work, creating employment losses and delayed economic recovery.[115] These empirical investigations usually evaluate the effects of just one program at a particular time, instead of the effects of participating in multiple programs simultaneously, which is the reality faced by many households.[116]
When policymakers think about the incentives created by safety net and other transfer programs, they are best analyzed as one system rather than distinct programs. One attempt to look holistically at these incentives models lifetime marginal tax rates after accounting for features of the tax system and eleven of the largest transfer programs at both the federal and state level.[117] The marginal tax rate is the tax rate paid on the next unit of income earned. Different from average tax rates, marginal rates speak more directly to incentives, answering the question, "If I earn one additional dollar, how much will I get to keep?" In many states, earning $1 too much can result in the loss of thousands of dollars in personal or family Medicaid benefits. This holistic approach finds that "one in four low-wage workers face lifetime marginal net tax rates above 70 percent, effectively locking them into poverty."[118] The current system of federal and state benefits can, through a system of disincentives, discourage poor Americans from working and stand in the way of upward mobility.
Not only is there evidence that welfare programs harm labor market outcomes, there is evidence that some of the worst effects can be mitigated through better program design. Attaching work incentives to assistance programs has shown some success at reducing the inherent disincentives. The experience following the 1990s-era welfare reform is particularly instructive. Requiring work for able-bodied recipients of previously unconditional transfers reduced caseloads and increased employment, although disentangling the effects of other simultaneous reforms is challenging.[119] The most definitive evidence shows benefits for single mothers, especially low-income single mothers. Single mothers were less likely to receive assistance, significantly more likely to work, and less likely to live in poverty following the addition of work requirements to welfare.[120] These effects have been found to persist for decades following the reforms and translate to increases in food security for subsequent generations.[121]
In addition to government benefits acting as a barrier to work, federal, state, and local regulations can also disproportionately harm low-skilled workers. In the aggregate, there is a strong measurable relationship between increases in regulatory restrictions and increased poverty across states.[122] Similarly, at the top of the wage distribution, high-income, high-status professions in law, finance, and medicine have institutionalized a system of government granted privileges that protect their professions from reasonable competition.[123] Other barriers to work, such as occupational licenses and restrictions on home-based businesses, create obstacles that restrict workers' ability to supply their labor in their desired field.
Regulations can also dampen the demand for workers. By raising costs for employers, many regulations make it unprofitable to hire lower-skilled, lower-paid workers. Labor regulations and minimum wages increase the amount of marketable value a worker must provide their employer in order to be worth employing. By raising the cost of employment, government policy can effectively set a floor under which certain workers are simply not employable. At the same time, government benefits can make work and investment in skills development less attractive, which ultimately makes workers less competitive in a labor market that—due to employment laws and regulations—requires a relatively high level of value creation in order to secure employment.
Possible Policy Approaches
The possible policy approaches to connect more Americans to work generally fit into three broad categories: remove barriers to work, fix disincentives to work, and bolster incentives to work. The policies that follow are by no means an exhaustive list, but offer a selection of policy options that may be worth exploring in further detail.
Remove Barriers to Work
Unnecessary or over burdensome regulations can create barriers for American workers trying to gain entry into more stable and better paying professions. Wide-ranging rules increase the cost of moving interstate for a higher paying job, stand in the way of new micro-business formation, discourage successful small businesses from expanding, and make it more challenging for the previously incarcerated to reenter the workforce. At every level of government, policymakers should consider ways to reduce and streamline these government-imposed barriers to economic opportunity.
Occupational Licensing
Occupational licenses are regulations that require workers to obtain a government-mandated license to legally offer goods or services for pay. These laws are often premised on a need for consumer-protection, and they ostensibly provide a way of ensuring quality or safety in specialized professions such as nurse practitioners. However, most licensing requirements are overly burdensome and act as state-enforced cartels that protect government-privileged industries from price and quality competition. There are few good reasons for governments to require hundreds of dollars in fees and thousands of hours of education for animal breeders, auctioneers, dance instructors, bartenders, cosmetologists, door repair contractors, florists, interior designers, landscapers, tour guides, or upholsterers.[124]
Licensing hurts Americans in two important ways. First, it denies the ability to choose lower-cost, unlicensed alternatives that could make essential services, such as childcare, more affordable.[125] Second, licensing is a barrier to work; it bars lower-income, young, and less educated workers from offering services as an enterprising way to start a new career and work themselves out of poverty, and it increases the costs of moving to areas with better opportunities which often have different licensing systems.[126]
The share of workers who are required to hold a state license has risen five-fold since the 1950s, from 5 percent to 25 percent in 2008.[127] Two-thirds of the growth comes from new licensing requirements rather than employment growth in previously licensed industries. In many of these cases, states can simply eliminate unnecessary and unproductive occupational licensing requirements. For licenses that are deemed necessary for health and safety, states and Congress can expand reciprocity so that similar licenses and credentials are portable between jurisdictions. Examples include the Nurse Licensure Compact (a multi-state license) which is currently available in 33 states,[128] and the Interstate Medical Licensure Compact (multi-license acquisition), which grew from 9 states in 2015 to 29 states, plus the District of Columbia and Guam, in 2019.[129] Interstate compacts could allow states to mutually recognize licenses or expedite licensure if someone has a license in a partner state.[130]
While the majority of licenses are mandated by states, there can be a role for federal occupational licensing reform. Senator Mike Lee's Military Spouse Licensing Relief Act would allow military spouses to use their occupational license in a new jurisdiction after being transferred for military service, and the previously introduced Alternatives to Licensing that Lower Obstacles to Work (ALLOW) Act would eliminate unnecessary occupational licensing requirements in the District of Columbia and federal parks.[131] Senator Lee's Tougher Enforcement Against Monopolies (TEAM) Act would also address uncompetitive practices by state and local licensing boards and encourage less restrictive regulatory alternatives where possible.[132] These federal reforms could serve as a model for reducing unnecessary barriers to employment across the country.
Zoning for Homebased Businesses
Similar to occupational licensing, local zoning of home-based businesses can also limit work opportunities. The coronavirus pandemic highlights the wide range of personal and professional services that can be carried out from home, if the law allows. In the latest survey of business owners, over half of firms were home-based businesses and six in ten firms without paid employees were home-based businesses.[133] These small businesses tend to be run by people who struggle to fit traditional work relationships, such as single parents, the disabled, the otherwise unemployed, and caregivers.[134] However, many cities' zoning regulations drive these entrepreneurs underground or discourage them altogether by effectively banning would-be home-based businesses through outright prohibitions, size restrictions, or other burdensome requirements.[135]
Arizona's Home-Based Business Fairness Act proposal [136] provides a useful example of how states can protect small-scale community entrepreneurs' ability to operate home-based businesses that do not negatively affect the local neighborhood.[137] In general, states and cities could update their home-based business regulations to exempt small, informal operations and add flexibility for growing small businesses.[138] The Small Business Administration also outlines tax compliance burdens on home-based businesses that could be streamlined, such as simplified depreciation schedules for a home office, taxes associated with the sale of the home, and onerous documentation for equipment that is not used exclusively for business.[139]
Barriers to Flexible Work
Estimates suggest that between 10 and 35 percent of U.S. workers participate in the gig economy, meaning that they have nontraditional, flexible employment arrangements.[140] Therefore, barriers to flexible work threaten the employment and lifestyles of millions of U.S. workers.[141] Surveys suggest that these workers, many of whom are independent contractors, overwhelmingly prefer their arrangement over a traditional employment arrangement due to the flexibility it allows. [142] For instance, independent workers are disproportionately likely to be caregivers to their children or parents.[143] Similarly, women in the gig economy report that the primary benefit of nontraditional work is the flexible working hours.[144]
Despite the benefits of flexible work, numerous barriers exist preventing workers from connecting to nontraditional employment opportunities. For instance, states such as California, New Jersey, and Massachusetts have all sought to impose regulations that reclassify independent contractors as traditional employees, which subjects employers to higher costs and severely limits options for individuals seeking flexible work.[145] Legislation also exists in Congress that would expand worker reclassification on a national scale,[146] and the Biden Administration recently rolled back Department of Labor (DOL) protections shielding independent contractors from reclassification.[147] Second, current tax law harms workers in flexible employment arrangements by limiting their access to tax-advantaged savings accounts relative to traditional employees.[148] Finally, individuals without formal employment arrangements lack access to employer-sponsored benefits like health insurance and retirement savings accounts, which discourages some workers from taking advantage of flexible work.
Instead of seeking to make every business and their workers conform to a traditional one-size-fits-all employment relationship, policymakers should take steps to decrease uncertainty surrounding flexible work, for instance by reinstating the DOL's rule clarifying the definition of independent contractors. Furthermore, universal savings accounts (USAs) would be valuable resources for workers in nontraditional employment arrangements.[149] USAs would empower all workers to save for the future by giving them access to a tax-advantaged savings vehicle not tied to any single employer, and one from which they could withdraw from at any time and for any reason without penalty.[150] Finally, portable benefits would give workers access to health insurance and other types of benefits that would follow them from job to job, regardless of their employer.[151]
Non-compete Agreements
Like licensure, non-compete agreements may create barriers to opportunity—particularly for low-wage workers—by limiting job switching, an effective way to increase earnings quickly.[152] Unlike state-enforced licensing, non-compete agreements are private legal contracts that, when agreed to, prevent employees from working at firms in competition with their current employer for some period of time. If non-compete contracts lower worker bargaining power, reduce beneficial job-switching, and induce covered workers to abandon their chosen occupation, they may present additional frictions that result in worker discouragement and possibly inactivity.[153] However, non-compete clauses can benefit workers by creating an environment where the benefit of additional costly employee training can be internalized through the employment contract.[154] Where non-compete clauses are used to protect trade-secrets, they can be an important protection for innovation and research.
Policymakers should study the effects of non-compete agreements more closely to determine their relative costs, benefits, and potential reforms. Many workers are notified of and asked to sign a non-compete only after accepting a job offer. Requiring upfront disclosure of a non-compete before the worker accepts the job could improve worker-employer matching, similar to Oregon and New Hampshire, where non-compete contracts are void if they are not included in "the original terms of employment."[155] The Economic Innovation Group (EIG) highlights a number of more restrictive policy options that states may consider, including: "garden leave" provisions that compensate a worker for abiding by the non-compete; bans on non-competes for low wage workers and specific high-skill jobs; and outright non-compete and no-poach bans.[156]
Reintegration of Ex-Prisoners
One of the impervious barriers to stable employment in America is a criminal record. An estimated 12 percent of men are current or former felons[157] and the formerly incarcerated make up one-third of disconnected prime-age men.[158] Those who are currently incarcerated and not included in labor force statistics, represent a similarly large loss of economic potential. Within a few years, more than half of former offenders will revert to criminal activity and face re-arrest.[159] This revolving door of the criminal justice system has many causes, but at a basic level, it stems from a failure to reintegrate individuals into communities and employment. Connecting the formerly incarcerated to communities and work is perhaps one of the most consequential public policy levers available to reverse the trend of prime-age male inactivity.
A myriad of federal, state, and municipal programs exist alongside non-profit organizations to facilitate reentry, supply health services, supervise, and offer educational opportunities and employment assistance. These include the recent re-expansion of Pell Grant eligibility to prisoners, the Bureau of Prisons' "Ready to Work" initiative, and the Department of Labor's dual efforts: the Reentry Employment Opportunities and the Federal Bonding Program, the latter of which helps insure businesses that are willing to hire the formerly incarcerated. Research shows that not all public programs have demonstrated success. For example, research shows that the success of publicly subsidized training and employment in most cases is limited to only the first couple years post-incarceration.[160] The research literature on reentry and recidivism, however, suggests that social ties to family, work, and community are among the most significant indicators of, and means for, reintegration.[161] Steady employment, in particular, is considered an effective means of both encouraging pro-social, lawful behavior, as well as discouraging criminal activity.[162] To that end, a number of private initiatives, including The Last Mile and Dave's Killer Bread Foundation, help inmates learn valuable skills in prison and facilitate "second chance" hiring for private businesses that might otherwise overlook those with a criminal record.[163]
In addition to social stigmas, however, the formerly incarcerated face a number of legal barriers to employment and opportunity, including legal restrictions to working in certain occupations, obtaining a driver's license, securing housing, and receiving public assistance.[164] Future reforms should therefore address these structural barriers to employment opportunities. As with occupational licensing reform more broadly, legal bans on hiring individuals with a criminal record or effective bans by occupational licensing boards could—depending on the nature of the occupation—either be removed entirely or revised to provide a safe, legal path to employment for eligible individuals.[165] Criminal background checks, as well as requiring offenders to identify their previous incarceration on job applications, may also be overly discriminatory. Yet research shows solutions like "ban the box" for criminal records on job applications worsen employment outcomes particularly for young Black men, as employers resort to pre-existing biases when an applicant's criminal record is no longer available.[166] State and local governments could form a dedicated task force or launch a review of regulations that restrict the employment opportunities of the formerly incarcerated and evaluate whether they might be reformed. They could also explore ways to alleviate the direct costs and risks associated with hiring an offender, such as pursuing reforms to employment law to reduce negligent hiring liability.[167]
Regardless of the reforms considered, policymakers ought to balance the goals of reintegration and employment with the protection of public safety and employers' rights. Likewise, they ought to be sensitive to concerns about special treatment and openhandedness. Just as a criminal record should not entail a life sentence of unemployment, it should also not be a voucher for free education. Instead, public policy should be oriented toward securing equal opportunity for the formerly incarcerated and rebuilding connections to the American workforce and civil society.
Employer Mandates
Regulatory requirements, tax obligations, and compliance costs associated with employment create uneven costs that dampen the ability to hire. As noted in a previous JEC Republican analysis, with few narrow exemptions,[168] payroll contributions, tax reporting and remittances, unemployment compensation, retirement benefits, rigid safety and health standards, the Fair Labor Standards Act (FLSA), which includes regulations on overtime pay and the minimum wage, "collectively require compliance beginning with just one employee."[169] Other requirements kick in at arbitrary thresholds, such as the requirement for employers with 50 or more employees to offer health coverage under the Affordable Care Act.[170] Some regulatory burdens are relatively fixed costs that weigh heaviest on small employers and become less costly on a per-employee basis for firms with larger payrolls, while others, such as payroll taxes, add similar costs to each new hire.
While establishing a standard of safety and well-being may be necessary in some industries, rigid, universal rules can prevent potential employees and employers from making alternative work arrangements that may be more mutually beneficial and situationally appropriate. Particularly in light of the pandemic, a number of reforms could improve employment opportunities and flexibility for workers. For example, Senator Lee's Working Families Flexibility Act would allow hourly workers to choose paid time off instead of overtime pay.[171] Policymakers should also consider more fundamental reforms to Social Security and Medicare that could lower the burden of payroll taxes, health care reform that would repeal the employer mandate, and devolution of many labor regulations to state governments.
Fix Disincentives for Work in Safety Net Programs
Providing an effective social support system to protect the most vulnerable Americans from poverty is critical. However, compared to the relatively targeted programs in the earliest iterations of the U.S. safety net, safety net programs today are less targeted and the share of the working-age population receiving at least one means-tested benefit has increased significantly over previous years.[172] The means-tested welfare system is large and complex, comprised of approximately 90 programs that provide assistance such as: cash, food, housing, medical care, and social services. Most of these programs undermine work by providing assistance without requiring employment or work preparation for those who are able-bodied. These programs make non-work a viable alternative to work for some Americans.
Connecting people to stable work is among the most effective poverty preventions available. In 2019, only 2 percent of full-time workers lived in poverty.[173] Reforms in the 1990s, including the Personal Responsibility and Work Opportunity Reconciliation Act (PRWORA), shifted from providing unconditional cash-aid to those in poverty to requiring work for able-bodied recipients, recognizing that while people may know best how to use funds on themselves, they do an even better job with their own earnings. The reforms in 1996 established work requirements and time limits in the Temporary Assistance for Needy Families (TANF) program, curtailing welfare assistance as an unlimited entitlement and creating a template for future welfare program reforms.
More reforms are needed. Work requirements in TANF have become less binding over time and enforcement varies significantly by state.[174] Nearly all other government means-tested programs lack any work requirements.
The following sections review specific reform opportunities targeted to improve work incentives for the work-capable prime-age population in TANF, the Supplemental Nutritional Assistance Program (SNAP, formerly the food stamp program), Medicaid, Supplemental Security Income (SSI), Social Security Disability Insurance (SSDI), and unemployment insurance (UI). These programs differ in who they target, but they are all federal programs that provide benefits to those with low or no income. TANF, SNAP, Medicaid, and SSI are considered "means-tested programs," in that individuals qualify based on their income and assets. Eligibility does not require a history of work. SSDI and UI are funded by payroll taxes and require a person to have a sufficient history of employment to qualify.
Temporary Assistance for Needy Families
TANF, along with SNAP, is one of the few federal means-tested welfare programs that includes a work requirement.[175] Formerly known as the Aid to Families with Dependent Children program (AFDC), the 1996 act reformed the program by inserting work requirements and time limits, renaming the program, Temporary Assistance for Needy Families (TANF). The reform requires states to engage approximately half of their able-bodied adult TANF recipients in work or work preparation activities and added a two consecutive year limit and a five-year lifetime limit for benefit eligibility. As the name of the program indicates, TANF is targeted to families, the majority of which are headed by single parents, mostly mothers.[176] After the 1996 reform, employment rates among low-income single mothers increased substantially and child poverty declined.[177]
The 1996 reform was a significant step that moved the U.S. welfare system towards a work-first approach. However, the reform only added work requirements for half of able-bodied recipients in one welfare program. Because the law was written in a way that allowed states to reduce the percentage of their caseload required to participate in work in various ways, TANF's work requirement has become weaker over time.[178] States have also found ways to fulfill the work requirement without actually engaging people in work or work activity. In most states, fewer—and sometimes far fewer—than half of the able-bodied TANF caseload is working or participating in work activity.[179]
To build on the progress of the 1996 reform, Congress could strengthen TANF's work requirement by expanding eligibility for mandatory work and narrowing the loopholes exploited by states. These types of reforms would restore and improve TANF's goal of promoting self-sufficiency through work.
Supplemental Nutritional Assistance Program
One of the largest means-tested programs, SNAP provides a benefit to purchase food for eligible, low-income individuals and households. The number of SNAP recipients increased dramatically following expanded eligibility in 2008 and the Great Recession. Since then, enrollment has remained high. The program covered almost 40 million people in 2020, and was close to 40 million prior to the COVID-19 pandemic, although it dipped to 36 million in 2019, down from 41 million in 2018.[180] In 2019, childless, non-elderly, non-disabled adults represented more than 12 percent of participants.[181] In 2005, less than 4 percent of the nearly 25 million participants were childless, non-elderly, non-disabled adults.[182]
Access to SNAP benefits likely creates disincentives to work, as the majority of participants are not required to work or participate in work programs. One quasi-experimental study found that when immigrants receive access to food stamps they work less.[183] Combined with other means-tested programs, participants can face marginal tax rates of well over 50 percent.[184]
SNAP's work requirement applies only to able-bodied adults without dependents (ABAWDs). ABAWDs are limited to 3 months of SNAP benefits within a 36-month period unless they are working or participating in a work program. However, states can waive a portion of their ABAWD caseload from the work requirement, and during times of high unemployment states are able to receive a full or partial waiver from the work requirement.[185] In 2019, the USDA's Food and Nutrition Service finalized a rule—currently suspended due to the pandemic—that restricts states' options to waive SNAP work requirements for ABAWDs.[186]
In 2014, during a period when the Obama Administration was allowing states to waive work requirements for all ABAWDs, Maine decided to forgo the waiver, such that ABAWDs in Maine were once again subject to the work requirement. Maine expanded its employment training programs to ensure everyone would have a way to fulfill the work requirement if they could not find employment.[187] As a result, Maine's ABAWD caseload dropped by half as people left the rolls. The significant drop in cases suggests that many of the previous beneficiaries had other means of support through family or non-reported income sources and others who were incentivized to work were no longer eligible for benefits due to higher incomes.[188]
States should consider building on Maine's efforts, promoting work for ABAWDs rather than accepting waivers for work requirements. Because SNAP is nearly completely funded with federal taxpayer dollars, federal reforms are also necessary to strengthen work requirements. Senator Lee's Welfare Reform and Upward Mobility Act expands work requirements for SNAP, requiring all able-bodied adults without dependents to engage in work or work activity as a condition of receiving benefits. The act would also require the majority of able-bodied adults with dependents on SNAP to engage in work activity.[189]
Beyond strengthening work requirements in SNAP and in TANF, the Welfare Reform and Upward Mobility Act strengthens program integrity by better aligning state incentives for administration of work requirements. It also caps total welfare spending to limit the growth of welfare and in turn helps more able-bodied Americans transition to work by shrinking the relative size of welfare over time.
Medicaid
Medicaid provides health care coverage for low-income individuals and families. It is the largest means-tested benefit program in the U.S.[190] Beginning in 2014, Medicaid eligibility was expanded to virtually all citizens and legal residents under age 65 and living in families with incomes below 138 percent of the federal poverty level, if states chose to do so.[191] Despite an almost decade-long decline in the pre-pandemic poverty rate, the share of the civilian noninstitutional population, age 26 to 54, covered by Medicaid or other means-tested public health coverage increased by almost 50 percent between 2010 and 2018, rising from 10 percent to 15 percent.[192]
Implementing work requirements for able-bodied prime-age adults covered by Medicaid could alleviate current work disincentives implicit in the existing benefit program. Because health care services are generally not denied to those in need, health program work incentives may not be as effective as other work requirements in promoting work or improving beneficiary independence.[193] However, paired with strong reforms in other areas, continued experimentation with Medicaid work requirements could provide significant benefits.
Prior to the pandemic and President Biden's administration, 10 states had received waivers to implement Medicaid work requirements for able-bodied adults in their prime working years.[194] Nondisabled men on Medicaid are estimated to work an average of 13 hours per week but with large variation, with many working more than 20 hours and others not working. One study suggests that the average number of work hours among Medicaid beneficiaries would nearly triple if all nondisabled Medicaid beneficiaries were required to work at least 20 hours per week.[195] Male recipients who work their way off Medicaid could benefit from almost $1 million more in lifetime earnings compared to Medicaid recipients who do not increase work.
Block Granting Welfare
Instead of specific reforms to individual programs, some have proposed replacing current welfare programs with consolidated block grants to states. One recent proposal from then-House Budget Committee Chairman Paul Ryan would create a unified block grant to states, replacing 11 welfare programs and devolving administration of programs to states, including SNAP, TANF, major housing assistance programs, and community development block grants.[196] The intention is to encourage innovation among the states in ways to help low-income people and reduce the existing maze of government welfare programs. Under the unified block grant, Congress could set requirements for abled-bodied work and the federal government would work with states "to agree on measures of success and evaluation by a third party to conduct an objective assessment of the plan."[197] States would determine how best to use the block grant funding to meet the federal requirements in their state.
Encouraging states to lead on welfare innovation and reform is a good principle. However, states do not have strong incentives to properly steward the welfare system because the federal government provides the vast majority of funding. If a block grant approach does not have sufficiently strong and enforceable work requirements, it could lead to states doing even less to promote work and self-sufficiency. Strengthening work requirements requires state government commitment to requiring work or work activity. Requiring states to contribute more of their own funding to welfare programs could also increase their motivation to discourage long-term dependence and promote self-reliance.
Social Security Disability Insurance
The SSDI program was originally intended only for disabled workers age 50-65 deemed unable to work but subsequent expansions of the criteria included eligibility for those under 50, those with temporary disability, relaxed medical screening, and other changes that make SSDI easier to obtain and more attractive to do so, such as automatic enrollment into Medicare after two years of receiving disability benefits.[198] SSDI program awards doubled in the fifteen years between 1988 and 2003 and expanded again during the Great Recession.[199] As of December 2019, 39 percent of more than 3.8 million disabled beneficiaries were ages 25-54.[200]
The business cycle also effects SSDI applications. High unemployment rates between 2008 and 2012 likely resulted in over 400,000 new beneficiaries, about 9 percent of all program entrants during the period.[201] These otherwise temporarily unemployed workers are often subsequently trapped in the SSDI program as it has an explicit anti-work requirement. SSDI includes a number of provisions that rule out returning to the workforce even for those capable of doing so with accommodations or on a provisional or part-time basis. For example, earning more than $1,310 a month can result in losing all benefits.[202] Reforms to SSDI could reconnect a large number of potentially work-capable beneficiaries to the labor force who currently face strong work disincentives, or alternatively, face strong incentives to seek benefits in the first place.[203]
The "medical-vocational grid" guidelines for determining benefit eligibility are outdated and need to be updated for the twenty-first century.[204] Advances in medicine and other technologies make accommodations for disability on the job more feasible and expand the types of jobs available to people of different abilities. With the increased prevalence of working from home during the pandemic, new work opportunities may become available for disabled workers who are better able to work from home, particularly if commuting or finding an employer to provide accommodations in the workplace was previously difficult.[205] Some factors considered for determining disability such as age, language proficiency, and education level could be eliminated from the grid altogether.[206]
Policymakers may also want to enable temporary and partial benefits scaled by earnings potential for those who otherwise face the "all-or-nothing" benefits under the current program structure, to enable those who have a disability or temporary impairment to continue working. [207] The UK's "Pathways to Work" Program and Denmark's elimination of the permanent disability designation for those under 40 years old provide valuable lessons for U.S. reforms wishing to encourage capable beneficiaries to reconnect with opportunities in the labor force.[208] Lastly, incentives for state operators could be improved by reforming the federal funding formula and improving state vocational rehabilitation, such as expanding specialized workforce training resources and improving incentives for employers to retain and rehabilitate partially disabled workers.[209]
Supplemental Security Income
SSI is a means-tested program targeting the aged, blind, or disabled, such that these individuals are "unable to engage in any substantial gainful activity (SGA) by reason of any medically determinable physical or mental impairment expected to last for at least 12 months or to result in death."[210] While SSDI is targeted to the disabled who have an employment history, SSI does not require a history of work for eligibility. The SSI population is low income and most SSI recipients do not have ties to an employer.[211]
The share of working-age persons, 18-64, receiving SSI grew by roughly 20 percentage points to 57.5 percent between 1974 and 2019.[212] Program recipients are nearly evenly split between men and women.[213] Nearly 40 percent of all SSI recipients are age 26 to 59, totaling 3.2 million prime-age persons as of December 2019.[214] SSI caseload growth has been driven by policy changes that have made eligibility determinations more subjective, rather than due to declining health among U.S. adults.[215]
For SSI recipients who do work, the earnings limit for non-blind workers is $1,310 per month for 2021, the same as SSDI.[216] Because program eligibility is based on proof of inability to work and the earnings thresholds are not designed to encourage the self-sufficiency of regular work, only 6.9 percent of all prime-age blind and disabled SSI recipients have market income.[217] Like SSDI, SSI could be reformed to encourage work among recipients. The medical grid criteria could also be updated to remove factors that are not related to disability (education, language proficiency, and age), as well as to reflect jobs in the modern economy. Ultimately, SSI should take a work-first approach, focusing on helping those with disabilities find work opportunities and improve their job skills whenever possible.
The SSI program also covers 1.1 million children as of 2019, many of whom remain beneficiaries their entire life.[218] To set these children up for a successful life, the direct cash payment to families could be converted into a flexible spending account that could be used to pay for specific goods and services related to the child's needs. As it stands, the SSI program for children is a very generous cash assistance program without work requirements for adult parents. The program undermines incentives to acquire work skills that will allow maturing children to engage in work as adults and fails to achieve one of its intended goals: to increase the likelihood that children with special needs become self-supporting adults.
Congress could also consider fully eliminating SSI for children, as there are multiple other programs available to support low-income families with children, including Medicaid, that serve a similar functional purpose. If there are treatments or health care needs Medicaid does not cover, families could receive SSI funding in a flexible spending account to cover specific uncovered needs. Changing SSI for children into a benefit designated specifically for certain services and items for children is less likely to undermine work than is a direct cash benefit and could also better ensure children receive the help they need to become self-supporting adults.
Unemployment Insurance
Unemployment insurance (UI) is a joint state-federal program, financed by a payroll tax, which offers benefits to covered workers who are involuntarily separated from their job. Under federal guidelines, each state determines eligibility, coverage and financing, most often replacing around 50 percent of lost wages for about 26 weeks. During recessions, as it did following the coronavirus pandemic, Congress regularly supplements the state programs by boosting wage replacement rates and extending the length of coverage. The design of the unemployment insurance system can incentivize workers to delay looking for a new job, crowd out other sources of income, such as spousal income, and reduce the incentive for workers to save for a rainy day.[219] The UI benefits during the pandemic were large enough to exceed wages for many workers even after being scaled back to $300 a week. This suggests that—even in the best case—many workers faced an explicit anti-work incentive.[220]
Longer periods of unemployment are shown to have "a strongly negative effect on the likelihood of subsequent employment."[221] As a result of its design, the UI system may incentivize longer periods of unemployment, which then make it harder to reenter the workforce, and more likely that the long-term unemployed become disconnected entirely.
One way to maintain a mandatory UI system and align personal financial incentives to return to work would be to create personal unemployment insurance savings accounts. Economist Veronique de Rugy proposes that the accounts are funded by employers and individually owned by workers who could draw on the balance during periods of lost income.[222] Because the accounts could also be used to supplement retirement income or be transferred to heirs, there would be an incentive to conserve use of the benefits and hasten a return to work.[223] Other less systemic reforms that work within the current UI system could include providing lump-sum payments to beneficiaries upon becoming re-employed to motivate a quicker return to work; requiring that beneficiaries go to their local unemployment office to pick up benefits and connect with case management services; and loosening the conditions for "acceptable employment" after a particularly extensive job search.[224]
Expand Incentives to Work
Where it is not possible to entirely eliminate government-imposed barriers, such as those occupational licenses deemed necessary for health and safety, some may choose to look to more activist policies to induce additional labor supply. In other areas where technological change or increasing trade exposure might have contributed to declining work among some men, policymakers could choose to study the best program designs to help better align worker skills with employer needs. These categories of reforms are likely second- or third-best solutions that paper over underlying issues caused by other government programs or policies.
Wage Subsidies
Where work requirements and scaled-back welfare spending for the able-bodied are not enough to encourage disconnected men to rejoin the labor force, public policy might be able to increase the rewards to labor and strengthen the incentives for work.
Boosting wages may seem to call for a straightforward policy reform: increase the federal minimum wage—currently at $7.25—so that it encourages more Americans to work. The consequences of such a policy would likely create an additional barrier to employment, and make it more attractive but more difficult for disconnected men to leave the sidelines. Although the minimum wage literature is contested, many studies find negative consequences for workers.[225] For example, recent evidence indicates that minimum wage increases reduced overall employment—particularly for low-wage, low-skill workers.[226] Furthermore, the effects of the minimum wage on employment differ considerably across geographies with varying costs of living, potentially hurting those regions with more tenuous workforce connections the most.[227] In fact, evidence suggests that minimum wage increases can worsen the health outcomes of out-of-work men and can incentivize low-income youth to drop out of school, which lowers their future earning potential.[228] As a policy measure to serve disconnected men, a federal minimum wage increase may cause more harm than good.
An alternative approach to increase wages without reducing labor demand is a government-funded wage subsidy to increase workers' take-home pay. Unlike cash benefits, wage subsidies ipso facto require work to receive the benefit and provide an additional incentive for those out of the labor force to seek employment. There are a number of forms of wage subsidies, both tried and untried, and not all of them are created equal.
Since its introduction in 1975, the Earned Income Tax Credit (EITC) grew to become the largest federal cash-transfer program for low-income families. Especially after the 1996 welfare reform, the EITC became one of the government's primary tools to support poor families, with 25 million eligible workers and families receiving about $61 billion in benefits in 2019.[229] As a refundable income tax credit, the EITC acts as an indirect wage support, the cost of which is borne by taxpayers, not employers. This has the effect, unlike a price floor or minimum wage, of increasing the labor supply without decreasing employer demand. It also calibrates the size of the subsidy to annual earnings and concentrates aid to parents with children. By being considerably less generous to single filers without dependents, it does not provide the same incentives to idle, prime-age men, many of whom are unmarried and childless.
The EITC is thought of by many as a policy success: incentivizing additional work, compensating for the negative employment effects of the payroll tax, and as an anti-poverty tool. The credit may have "substantial effects" on labor supply decisions among low-income parents—especially single mothers.[230] Some argue that a "large share" of the "unprecedented increases" in work among low-income women through the 1990s was attributable to the EITC,[231] though the magnitude of its effect remains in contention. Other factors, such as welfare reform and a healthy labor market, may explain much of the observed increases in labor supply.[232] EITC expansion for childless workers enjoys bipartisan support as President Barack Obama and House Speaker Paul Ryan endorsed identical expansion plans in 2016.[233] However, two recent state-level expansions of the EITC for childless workers—a well-targeted reform for inactive men—showed very small or no impact on employment, no increases in earnings, and did not impact other crucial indicators of well-being.[234]
Despite its popularity, the credit is not without its share of problems. The complex credit structure results in large overhead costs at the Internal Revenue Service, although administrative costs are not as high as other welfare programs.[235] Meanwhile, administrators struggle with basic compliance—particularly around individuals claiming non-resident dependents—and report an estimated 25 percent rate of improper payment.[236] As an annual, lump-sum payment, it operates like a government check in the mail, not an actual subsidy in each paystub. A little-used periodic payment option was available until 2010 when it was discontinued as recommended in President Obama's FY 2010 budget proposal due to "extensive non-compliance by employers and workers."[237]
The EITC may also not generate the desired outcomes for program participants. By increasing labor supply, the EITC may decrease the bargaining power of low-wage workers, which has been shown to slow market wage growth.[238] There is also some limited evidence that the credit's phase-out range may pose a modest work disincentive for some workers, as beneficiaries reduce their total number of hours worked in order to maximize their earnings with the credit.[239] These negative effects are mitigated by the credit's complexity and are consequently difficult to see in the data.[240] Its real value also varies by geography. This means that eligibility and phase-out ranges have stronger incentives in low-cost regions than in high-cost ones.[241]
The EITC could be reformed in a number of different ways to address low attachment to the labor force. A pro-worker EITC reform, for example, would remove marriage penalties and could be more generous to single, childless workers who are at risk for dropping out of the labor force altogether. However, the latter change might reduce their incentives to marry. Other potential reforms include an extended phase-out range to limit the disincentives of the current "earnings cliff." Congress and the IRS could also address fraud by simplifying the credit and adopting a standard method for claiming dependents across programs. Reforms could also experiment with alternative approaches to the wage subsidy model, such as periodic payments or a payroll tax credit. These and other reform proposals merit further consideration, research, and evaluation.
Given the challenges endemic to income tax credits, some have proffered a more direct wage subsidy as a preferable alternative.[242] Instead of lump-sum payments from the IRS, employees would receive a government-funded subsidy payment directly in their regular paycheck. An incentive based on hours worked, rather than annual income, may also present distinct advantages for workers looking to take on an additional job or work extra hours because they would not risk reduced benefits. A direct wage subsidy is not without its own challenges and limitations. Not all of the benefits, for instance, will go directly to workers. As is demonstrated by the EITC, employers could capture the value of the subsidy by lowering market wages and letting the government pay the difference. The "wage-support tool offers distinct administrative challenges," such as costly new administrative infrastructure and new burdens on employers.[243] Furthermore, complexity arises when annual income is not considered, such as in cases where workers have a second job, do not work full-time or year-round, or work as an independent contractor.[244] Nonetheless, some policymakers may want to experiment with new forms of wage subsidies to determine their feasibility and to measure their effect on employment and labor force participation.
In the search for flexible and simple policy interventions, policymakers should avoid the trap of deprioritizing work in the pursuit of a panacea. A Universal Basic Income (UBI), for example, has been proposed as a straightforward solution to unemployment of low-wage, low-skill workers.[245] While a UBI features administrative simplicity and greater flexibility for beneficiaries, it is, at best, apathetic to the social costs associated with being disconnected from the workforce and other institutions of civil society. As an unconditional benefit, it contains an implicit work disincentive and could function in the ways that SSDI and SSI effectively do: as long-term unemployment insurance.[246] Indeed, UBI and other unconditional benefit proposals are often motivated by flawed analysis that accepts a demand-side explanation for inactivity and reflects either an inability or an unwillingness to address the needs of America's disconnected and out of work men. Instead of the palliative care of UBI, policymakers should adopt a surgical approach for disconnected men's diagnosis. Removing disincentives to work in existing programs, removing government-imposed barriers, and reforming existing wage subsidies could be practical places to start.
Better Matching Skills to Employer Demand
Another way to expand employment opportunities is to invest in human capital to help jobseekers become more employable. Even in economies where demand for labor is strong, the available workforce may lack the skills necessary for the jobs available. This so-called "skills gap"—a mismatch between the skills employers seek and the skills jobseekers possess—is often overstated as a market failure or blamed for broader labor-market trends, as reviewed in the section above on skills-based technological change. In the absence of government interference, there are strong private incentives for workers to build the skills their employers require and for employers to help current and future employees acquire in-demand skills.
To the extent there are workers who need help reskilling, the politically popular and seemingly easy solution of government-subsidized or government-run career and technical education programming has, at best, mixed success.[247] Rigorous evaluations of current government employment and training programs find that the benefits tend to be small and, in some cases, have made participants worse off. For example, the Trade Adjustment Assistance (TAA) program provides benefits and retraining for qualifying workers who have lost their job due to increased foreign imports. The most recent program analysis concluded that four years after enrollment in the program, "TAA participants had lower earnings than the comparison group."[248] In a 2019 review of the more than 40 different government workforce programs, the CEA found that job training programs are "largely ineffective" and that, in light of their costs, they "have a negative net benefit."[249] The poor results of these programs may actually be a positive sign. In most studies the control population—the workers who do not enroll in the program—tend to find jobs and advance in careers without the government assistance, making it difficult to measure any benefit from the government-subsidized program. Often, the market alternative is as good, or better than what the government has to offer.
Still, there have been a few successful models of workforce development programs that emerged in recent years and could inform federal policy. The "sector-based training" approach involves collaboration between employers in a high-demand industry, expert training providers, and intermediaries who facilitate the collaboration.[250] Rigorous evaluation of sector-specific training programs show some success but may be challenging to scale nationwide.[251] More than three decades of making and remaking federal training programs should remind policymakers that there is no panacea, but that considerable reforms to existing programs so that services are more responsive to employer needs and local markets, could show promise in helping some Americans find new purpose and opportunity in work.
Similar reforms have also taken place to better orient federally recognized apprenticeships to employer demand. Before the Biden Administration ended the initiative in February 2021, the Department of Labor developed a new industry-recognized apprenticeship program designation (IRAPs), in addition to the more formal Registered Apprenticeship designation. These programs include paid work, work-based learning, and participants receive at least one industry-recognized credential with which to pursue future employment opportunities.[252] Registered Apprenticeships "substantially" increase participant earnings, likely because they incorporate a diverse group of stakeholders, including trade associations, employer groups, educational institutions, state and local governments, non-profit organizations, and labor unions.[253] Registered Apprenticeships comprise only a small portion of the overall private training and development infrastructure. In total, private employers make up about half of the more than $1 trillion spent on post-secondary education and training each year. Federal outlays for job training make up less than 2 percent.[254] If policymakers think they can improve the private system of skills development, things like flexible approaches to accreditation could serve as a model for other workforce development programs.[255]
Federal policy could also address rules that govern private funding of skills development and training. Taking on new student debt is not financially viable for many Americans seeking occupational training—particularly in the case of a mid- or late-stage career change. One promising avenue for funding support is an Income-share Agreement (ISA), whereby students pay nothing upfront but agree to pay some portion of their income post-graduation for a specific period.[256] The fast-growing, online coding bootcamp, Lambda School, adopted the ISA model,[257] as have some major universities, such as Purdue and Clarkson.[258] ISAs have the possibility of realigning incentives of education institutions, making revenue contingent on student outcomes, while also reducing the risks of default for students.[259] Federal policymakers could consider legislation that clarifies the legality and enforceability of ISAs to reduce investor uncertainty.[260]
Another important way that federal policy could support workforce development and re-skilling efforts is through accreditation reform. Non-degree credentials and work-experience programs are already quite popular and effective for workers without a college degree. An estimated thirty-two percent of the American working class has a license or certificate from such a program.[261] Yet there exists no framework by which to evaluate and compare the effectiveness of non-degree programs and credentials. Moreover, unaccredited programs are ineligible to receive federal aid.[262] Federal policymakers could consider new models of federal funding that pair financial aid with quality-assurance measures, such as Virginia's FastForward program.[263] Other reforms might transform the accreditation system, such as Senator Lee's Higher Education Reform Opportunity (HERO) Act, which—in addition to streamlining federal aid, realigning education providers' incentives, and providing greater transparency into student success—enables states to accredit any post-secondary institution.[264]
Additional Ways to Connect More Americans to Work
Some of the reforms suggested thus far could provide immediate improvements to workforce connections as the pandemic fully recedes, providing a better foundation for the post-pandemic labor market. Monetary policy and organized labor are two remaining factors that affect workforce connections.
Stable Monetary Policy
One important criterion for keeping consistent connections to work is macroeconomic stability. While some unemployment or non-employment is structural, at least some is a product of the business cycle. This cyclical unemployment can be mitigated with a stable and consistent monetary policy. A recent Social Capital Project report, "Stable Monetary Policy to Connect More Americans to Work," suggests that a monetary policy that stabilizes nominal income would allow for a more stable labor market. This is because wages—which are difficult to adjust and often based on longer-term contracts—do not have to adjust much on average if aggregate nominal income growth is stable.[265] The rest of the economy can then set prices around those anchored expectations.
While this policy idea is mainly about creating stability to avoid short-run instances of disequilibrium in labor markets and mitigating short-run economic effects, it may also help in the longer run. Spells of unemployment may create atrophy in worker skills and social capital that then make it harder for the worker to get a job later. In this way, sufficiently-damaging cyclical unemployment can eventually become structural. The mitigation of cyclical unemployment through stable monetary policy may therefore help some long-run structural trends—though of course, other structural problems like health, education, and government disincentives may remain.
It is particularly important to consider this relationship, where short-run unemployment may turn into lingering long-run nonemployment through atrophy and hysteresis, in the recovery from the COVID-19 pandemic. Losing work experience—in some cases more than a year's worth—may cause longer-run structural damage. It is therefore imperative to return to full employment as quickly as possible.
Labor Reform
Organized labor historically served an important albeit adversarial role in the building and maintenance of connections to work among its members.[266] Labor unions secured worker benefits and protections, negotiated higher wages, and built a sense of solidarity among members. Today, however, private-sector union membership is at an all-time low with only 6.3 percent of workers listed as union members.[267] Labor unions were not designed to adapt to global competition, advanced technologies, fractured industries, and diffuse labor markets—much less a post-industrial "gig economy" in which there exists no traditional employer. Policy leaders and union leadership should consider ways in which unions can evolve to meet the needs of twenty-first century, predominantly post-industrial workers.
Unions could offer distinct advantages over employers, governments, and other organizations in the provision of various benefits and services. For example, unions could connect employers to workforces and offer low-cost or free job training and professional development programs to workers in coordination with employers, universities and community colleges, and industry associations. They could advocate for member interests in the industry, provide individual career development and advancement like a professional association, and support for individual worker negotiations. Moreover, unions could have greater flexibility in the provision of low-cost portable insurance and benefits to its members such as malpractice and employment insurance as well as life, retirement (e.g., defined-contribution plans), and health insurance coverage.
There are a few ways federal policy could encourage experimentation. Reform of federal labor law could remove unions' "exclusive representation" privileges and permit direct worker negotiations with management. Eliminating exclusive representation privileges—the mandate that unions represent every employee of a business, regardless of whether the employee is a union member—would require unions to compete to attract their membership by offering useful services.[268] Reform could also institute "paycheck protections" to restrict unions' ability to use revenues from union dues for political activities without workers' express consent. "Right-to-work" provisions could also be incorporated into federal policy and thereby prevent workers from being fired for not being a union member. Such reforms would permit workers to organize on a members-only basis and with a more cooperative relationship with management.[269] Congress could also permit state and local governments, firms, and unions to opt out of certain federal labor laws to encourage experimentation with alternatives to existing standards that accomplish the purpose of the law. This type of policy experimentation could decentralize decision-making and recognize that the needs and interests of workers vary by state, locale, and firm.[270]
Conclusion
At a time that is particularly fraught with concerns that our institutions no longer provide an opportunity for everyone to achieve their life ambitions, some may be disenchanted with the idea that work can enrich their livelihoods and provide upward mobility. For others, insurmountable obstacles may prevent them from obtaining meaningful work or starting a business.
While there are a myriad of reasons postulated about why fewer Americans in their prime earning years are attached to the labor force, it seems clear that low-wage and low-skill workers are now less willing to supply their labor than relatively higher skilled, higher wage counterparts. These reasons have less to do with increased difficulty in finding well-paying jobs, shrinking middle-skill jobs, insufficient pay for productivity, or exposure to trade. Increasing prime-age disconnectedness likely has more to do with demographic shifts, changing worker preferences, state and federal regulatory barriers, and increased attractiveness of federal and state supports. In addition to these longer running trends, Americans are still confronting the effects of a once-in-a-century global pandemic that dramatically and unevenly upended labor markets in ways that are still not fully understood.
Reconnecting inactive workers to the labor force will require careful consideration of poorly-designed federal benefits, wide-ranging regulations that exclude would-be workers from the labor market, and labor laws that restrict employee freedoms to work on their own terms. Policymakers must not forget that work can provide more than a paycheck; it can offer self-respect, a chance to thrive through personal achievements, and an opportunity to deepen community ties that build the foundation for robust social capital and a strong civil society. By revitalizing connections to work, we simultaneously strengthen families, communities, and civil society.[271]
Ultimately, work is a means of promoting wellbeing, not an end in itself. Improving connections to work and increasing the attractiveness of work, particularly among those most at risk for idleness or isolation, can significantly improve the economic, social, and mental well-being of disconnected Americans.
Christina King, Senior Economist
Scott Winship, Former Executive Director
Adam N. Michel, Deputy Director
Special thanks to Wells King, Rachel Sheffield, Jackie Benson, and Alan Cole for their contributions.
Endnotes
---