The Demise of the Happy Two-Parent Home
Who are you? What have you become? Throughout our lives, we are enmeshed in a network of social relationships that influence us, for better or for worse. Most of our relationships have some value to us, else we would not be in them. They constitute social capital—a form of wealth every bit as valuable as financial or human capital.
Family relationships are the first a person experiences in life. Children are nurtured, taught, and socialized in the family, and from there learn to relate to others and participate in the broader society. A stable family offers the emotional security a child needs for healthy development. As Princeton University sociologist Sara McLanahan has noted:
If we were asked to design a system for making sure that children's basic needs were met, we would probably come up with something quite similar to the two-parent ideal. Such a design, in theory, would not only ensure that children had access to the time and money of two adults, it also would provide a system of checks and balances that promoted quality parenting. The fact that both parents have a biological connection to the child would increase the likelihood that the parents would identify with the child and be willing to sacrifice for that child, and it would reduce the likelihood that either parent would abuse the child.1
As sources of valuable social capital, few relationships are as important as the family ties between parents and children. However, as with other features of our associational life, family ties have been weakening for several decades.2 Today, around 45 percent of American children spend some time without a biological parent by late adolescence.3 That is up from around one-third of children born in the 1960s and one-fifth to one-quarter born in the 1950s.4 Even more strikingly, among the most disadvantaged socioeconomic groups, even fewer children are raised in continuously intact families. Single parenthood is experienced by two-thirds of the children of mothers with less than a high school education and by eighty percent of black children. This inequality in family stability contributes to but also compounds economic inequality.5
This report examines the state of family stability in the United States and describes policy approaches to ensure that more children are raised by two happily married parents. This policy goal is one of five identified by the Social Capital Project in our essay The Wealth of Relations, as central for expanding opportunity by shoring up families, communities, and civil society.6 Future reports will propose specific policies toward this end.
Intact Families and Opportunity
Researchers have well established that children raised by married parents do better on a wide array of outcomes. They have stronger relationships with their parents, particularly with their fathers.7 They are also much less likely to experience physical, emotional or sexual abuse.8 They have better health, exhibit less aggression, are less likely to engage in delinquent behavior, have greater educational achievement, and earn more as adults.9 They are also far less likely to live in poverty.10
Rigorously establishing the causal importance of family structure is far from straightforward, however. Few studies are up to the task. And among the most rigorous studies, about half find the estimated effects of experiencing single parenthood are not large enough to reliably say they are real rather than artifacts of imprecise statistical methods.11 It is surely the case that many children are harmed by family disruption. But other people raised by single parents may have had worse outcomes if their parents had married or stayed married. People raised by two happily married parents would almost surely have done worse if their family had been disrupted. But the alternative for people who were raised by single parents would not necessarily have been being raised by two happily married parents.12
The basic methodological problem is that we cannot observe these "counterfactual" outcomes—what would have happened if a person's family situation had been different. A few papers are better able to address this problem by looking at specific subsets of children whose parents' family decisions were affected by specific features of their environments. Two examples reveal the importance of considering "what would have happened" when we think about the effect of single parenthood on child outcomes.
The first paper, by Keith Finlay and David Neumark, looked at the effects of growing up with a never-married mother on high school graduation rates.13 In their study, they isolate the impact on children who would have grown up with a married mother but for the fact that she lived in a state with a high incarceration rate (after accounting for crime rates), leading to fewer men available to marry. The results indicate that these children would have been no better off—or possibly even worse off—if their mothers had married. This finding makes intuitive sense. The counterfactual for these children if the state incarceration rate had been lower would have been living with a father with a high criminal propensity. Such men are unlikely to be positive influences on their children.
A second paper, from Austrian researchers, considered whether experiencing a parental divorce affects a range of outcomes.14 They isolated impacts on children who would have been raised by both their parents if not for the fact that their fathers' workplaces had relatively high numbers of women similar in age to the father and working in the same occupation. That is, these children experienced divorce because their fathers were more likely to enter into an extramarital affair simply by virtue of circumstances that make an affair more likely. The study found that experiencing divorce worsened educational, employment, and health outcomes for this subset of children. Again, the results make sense: many of these children may have been in what seemed to them to be fairly healthy families, and the divorces they experienced were likely to have involved a great deal of acrimony and pain.
The relevant policy question—for which we lack good answers based on rigorous research—are what share of children would have ended up better off (and by how much) in the counterfactual where their parents had married or stayed married. To know that, we would need to understand what caused specific parents not to marry or to divorce and how things would have been different had these causes not led to family disruption.
What is self-evident—without consulting research—is that more children would fare better if more were raised by their married parents within a healthy relationship. As the Social Capital Project wrote in its earlier report, The Wealth of Relations, compared with children of single parents, children with happily married parents
get to see both parents every day, spend the holidays with both, and they don't have to feel guilty about spending or enjoying more time in one household than the other. Nor do they have to question whether they caused their parents to break up. They have a single set of household rules, a single bedroom and wardrobe. Their schedule does not depend on which parent they are staying with. They get engagement from both parents and avoid hearing parents acidly complain about each other. Their parents are less exhausted by childrearing. They get the material benefits of economies of scale and of higher family income. They are witness to what a loving relationship looks like and have first-hand evidence that such relationships are secure and sustainable. And they avoid having to adjust to the changing romantic lives of their mother or father—changes which can include disruptive remarriages and family-blending.
The Wealth of Relations also noted that cutting-edge research by Harvard economist Raj Chetty and his colleagues implies that growing up surrounded by family stability is also beneficial to children:
the team looked at adults who, as children, were poor but lived in low-poverty neighborhoods. They found that black men had stronger upward mobility the more low-income black fathers there were in their childhood neighborhood. This was true regardless of whether someone's own father was present, suggesting that even the family cohesion of other black children in the neighborhood affected them. Meanwhile, having more low-income white fathers in the neighborhood did not increase the upward mobility of poor black children; nor did having more low-income black men who were childless. More low-income black fathers in a neighborhood also corresponded with higher future employment among poor black boys. The relationship between the number of low-income black fathers and future employment was much smaller for poor white boys and negligible for poor black girls.
The social capital inherent in a child's relationships to her parents will be more valuable when both are part of her life and when they have a healthy relationship with each other. And social capital available to children is more valuable to the extent that they are surrounded by other healthy family relationships.
Family Stability Has Declined
However, American families are far less stable today than in the past. Fewer Americans are married, more romantic relationships take place outside of marriage, more marriages end in divorce, and ultimately, more children are born into or raised outside of intact families.
Although most Americans still marry or say they would like to marry, marriage is not nearly as common as it was in previous generations.15 Overall, between 1962 and 2019, the percentage of women ages 15-44 who were married dropped from 71 percent to 42 percent (Figure 1).16 Furthermore, Figure 2 shows the percentage of women ages 30-34 who had never married increased from 7 percent in 1962 to 35 percent in 2019.17
Figure 1. Percent of Women Ages 15-44 Who are Married, 1962-2019
Source: Social Capital Project analyses of data from the Annual Social and Economic Supplement to the Current Population Survey, using the Integrated Public Use Microdata Series Online Data Analysis System. Separated women are included as married.
Figure 2. Percent of Women Ages 30-34 Who Have Never Married, 1962-2019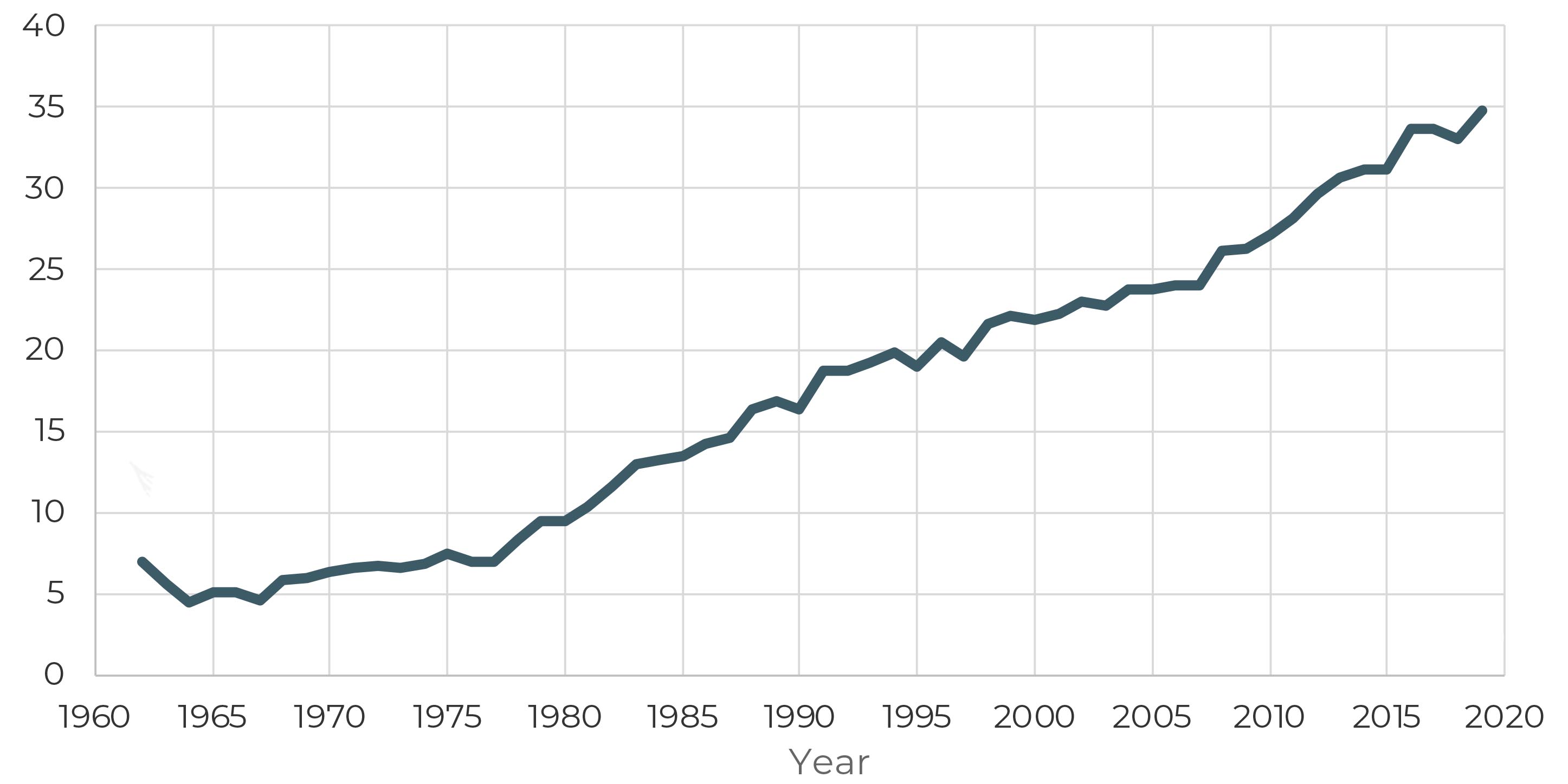 Source: Social Capital Project analyses of data from the Annual Social and Economic Supplement to the Current Population Survey, using the Integrated Public Use Microdata Series Online Data Analysis System.
In 1960, there were 74 marriages per 1,000 unmarried women ages 15 and older, but as of 2018 that rate had declined by more than half to 31 per thousand.18 People spend less of their life married, as the median age at first marriage in the United States has steadily climbed from 20 and 23 for women and men, respectively, in 1960 to a median of 28 and 30, respectively, in 2019 (Figure 3).19
Figure 3. Median Age at First Marriage by Sex, 1960 to 2019
Source: U.S. Census Bureau, "Estimated Median Age at First Marriage, by Sex: 1890 to the Present," Historical Marital Status Tables, Table MS-2, https://www.census.gov/data/tables/time-series/demo/families/marital.html.
The decline in marriage is due not only to increasingly delayed marriage and to the rise in never-married adults, but also to higher divorce rates. In 1960, the divorce rate was 9 per 1,000 married women, and that rate increased through the 1960s and 1970s, reaching 23 per 1,000 by 1980.20 Comparable estimates are surprisingly difficult to obtain after 1980, but by 2010 the divorce rate probably was somewhat lower (21 per 1,000), and it fell further to 17 per 1,000 by 2018.21 Any post-1980 drop was confined to the under-35 population.22 (In the past decade, divorce has also fallen among those in their late thirties and early forties, but the rate remains elevated relative to 1980.)23
Furthermore, the overall divorce rate after 1980 may have declined only because the Baby Boomers aged out of the part of the life cycle where divorce is most common. When Sheela Kennedy and Stephen Ruggles considered what would have happened had the population not aged between 1980 and 2010, they found that divorce rates would have risen about as much between 1990 and 2010 as between 1970 and 1980.24
Because divorce rates have fallen during the part of the life cycle when divorce is most common, it may be that today's post-Millennials, when they are the age of today's Baby Boomers, will be less likely than Boomers to have divorced at some point in their lives (conditional on having been married). Kennedy and Ruggles estimated that ever-married Americans in their 20s or early 30s in 2010 were less likely to have divorced than their same-age counterparts in 1980. However, as noted, their marriages will likely be at greater risk for divorce when they are older than used to be the case. (Divorce rates among older women increased between 1980 and 2010 then stabilized.)25
Figure 4. Percent of Ever-Married Women Ages 50-54 Who Ever Divorced, 1960 to 2018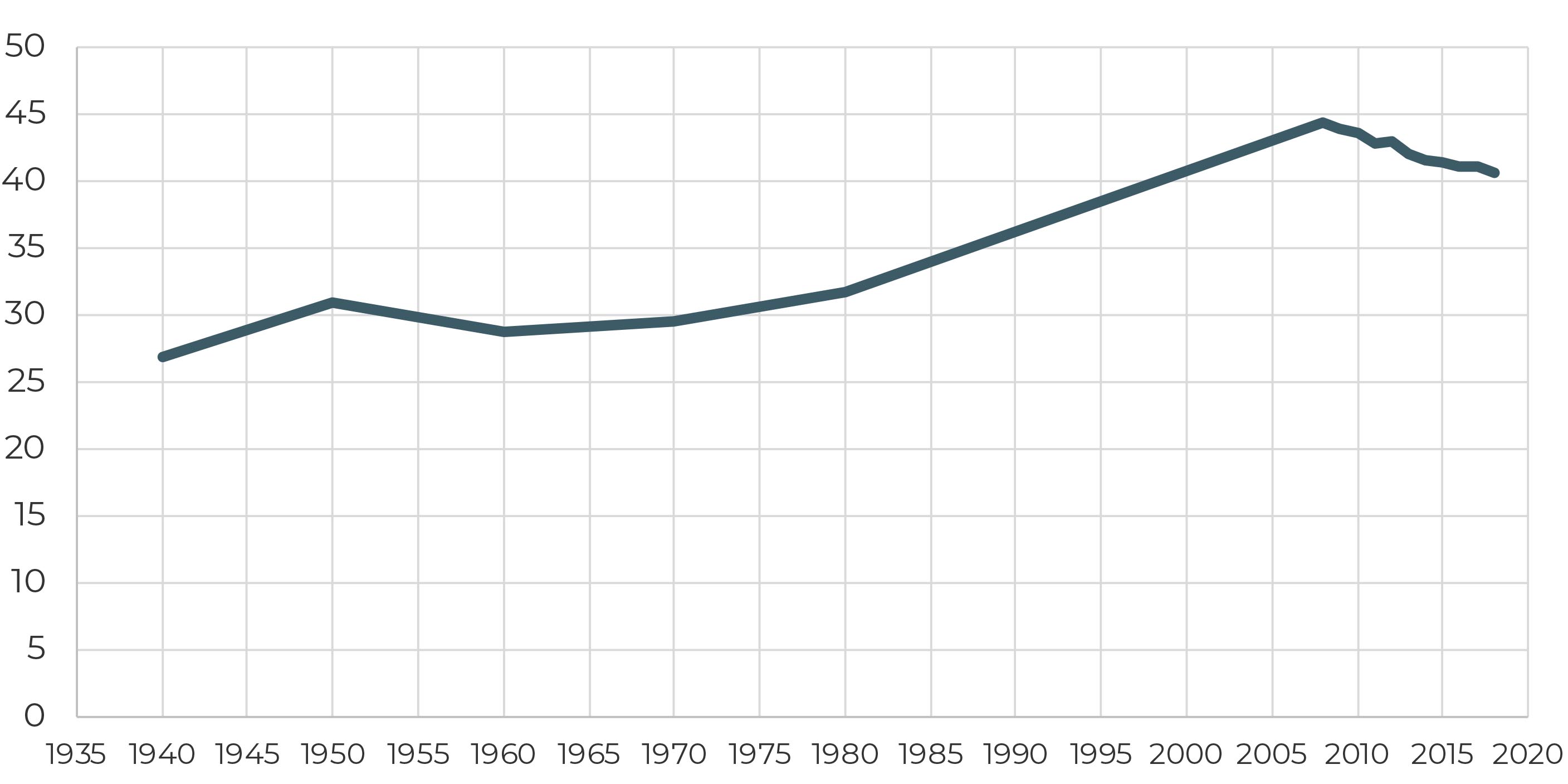 Source: Social Capital Project analyses of Integrated Public Use Microdata Series microdata from the decennial census and American Community Survey.26
As marriage has declined, couples have become more likely to cohabit as unmarried couples. In the 1960s, less than one percent of couples living together were unmarried—a figure that rose to 5 percent by 1990 and stood at 12-13 percent as of 2019 (Figure 5).27 Furthermore, marriage is much more likely to be preceded by cohabitation today than in the past. Among women ages 19 to 44 who married between 1965 and 1974, just 11 percent had cohabited with their husbands prior to marriage, but that number jumped to 32 percent among those who married between 1975 and 1979 and continued to soar thereafter. For the past two decades, two-thirds of new marriages have been preceded by cohabitation.28
Figure 5. Percent of Adults Cohabiting as a Percent of Adults Living with a Partner, 1967-2019
The decline in marriage and the increase in cohabitation has led to substantial growth in unwed childbearing. The percent of births to unmarried mothers has jumped from five percent in 1960 to 40 percent today (Figure 6).29 That is only slightly below the peak of 41 percent in 2009.
Figure 6. Percent of Births to Unwed Mothers, 1960-2018

Source: Centers for Disease Control and Prevention, National Center for Health Statistics, various National Vital Statistics Reports. See note 29 for details.
This increase in unwed births is due not only to the decline in marriage overall, but also to the decline in "shotgun marriages" or post-conception/pre-delivery marriages, as we show in a previous report.30 In the early 1960s, births produced by nonmarital conceptions followed a shotgun marriage 43 percent of the time, but today fewer than 10 percent involve a shotgun marriage. In fact, besides the decline in marriage rates overall, which increased the pool of women "at risk" for an unwed birth, the decline in shotgun marriage has been the largest contributing factor to the rise in unwed births.31 It has been the single most important factor contributing to rising unwed childbearing among women under thirty.
While unmarried mothers are often cohabiting with the father of their child at the time of the child's birth, cohabiting relationships are far less stable than marriages. In a 2007 study researchers found that 50 percent of children born to cohabiting parents experienced a maternal partnership transition by their third birthday, compared to just 13 percent of children in married-parent families.32 Thus, children born into households where the parents are not married are much more likely to see their parents break up.
The combination of unwed births and divorce has led to a marked rise in the share of children living with a single parent. Fifty years ago, in 1970, 85 percent of children lived with two parents, four percent of children lived with a divorced single parent, while another one percent lived with a never-married parent.33 (The rest lived with only one married parent present, had a widowed parent, or lived with neither parent.) In 2019, just 70 percent lived with two parents.34 Roughly 10 percent lived with a divorced single parent, and close to 15 percent lived with a never-married parent.35
Figure 7. Percent of Children Living without One or Both Parents, 1970-2019


Source: Social Capital Project analyses of published Census Bureau tables on Historical Living Arrangements of Children. https://www2.census.gov/programs-surveys/demo/tables/families/time-series/children/ch1.xls. "Parent" refers to biological, step, or adoptive parents. The Current Population Survey was changed in 2007 to better identify both parents.
It is true that some children of never-married parents live with their cohabiting parents. However, some children living with married parents have experienced a divorce or were born to a single mother but live with a parent and stepparent. Some will experience divorce later in childhood. As noted above, nearly half of children have spent part of their childhood without at least one biological parent, up from around one-third of children born in the 1960s. Since unwed childbearing has become so much more common, the duration of childhood spent without both parents has increased even more than these figures would suggest.
Family instability in the United States has also led to an increase in the percent of Americans who have children with multiple partners, creating complicated relationships across households. Nearly 16 percent of all parents in the United States have children with more than one partner, and in 20 percent of all marital or cohabiting relationships, at least one of the partners has children with more than one partner.36 Furthermore, fathers with multi-partner fertility are less likely to say they feel close to their children and are more likely to have failed to establish paternity for at least one of their children.37
The Socioeconomic Divide in Family Stability
Although family instability has increased among all Americans, family instability is far more common among the non-college-educated. The highly educated marry more often, stay married more often, and rarely bear children outside of marriage. (We define highly-educated as being in roughly the highest quintile of educational attainment, low education as being in roughly the lowest quintile of educational attainment, and moderate education as those in the remaining quintiles.38) Family stability also varies by race.
As of 2019, 57 percent of highly-educated women ages 15-44 were married, compared to only 36 percent of moderately-educated women and 18 percent of women with low education (Figure 8).39 These differences were much smaller in the mid-1960s, with less than ten percentage points separating the three groups in 1964.
Figure 8. Percent of Women Ages 15-44 Who are Married, 1962-2019, by Education Level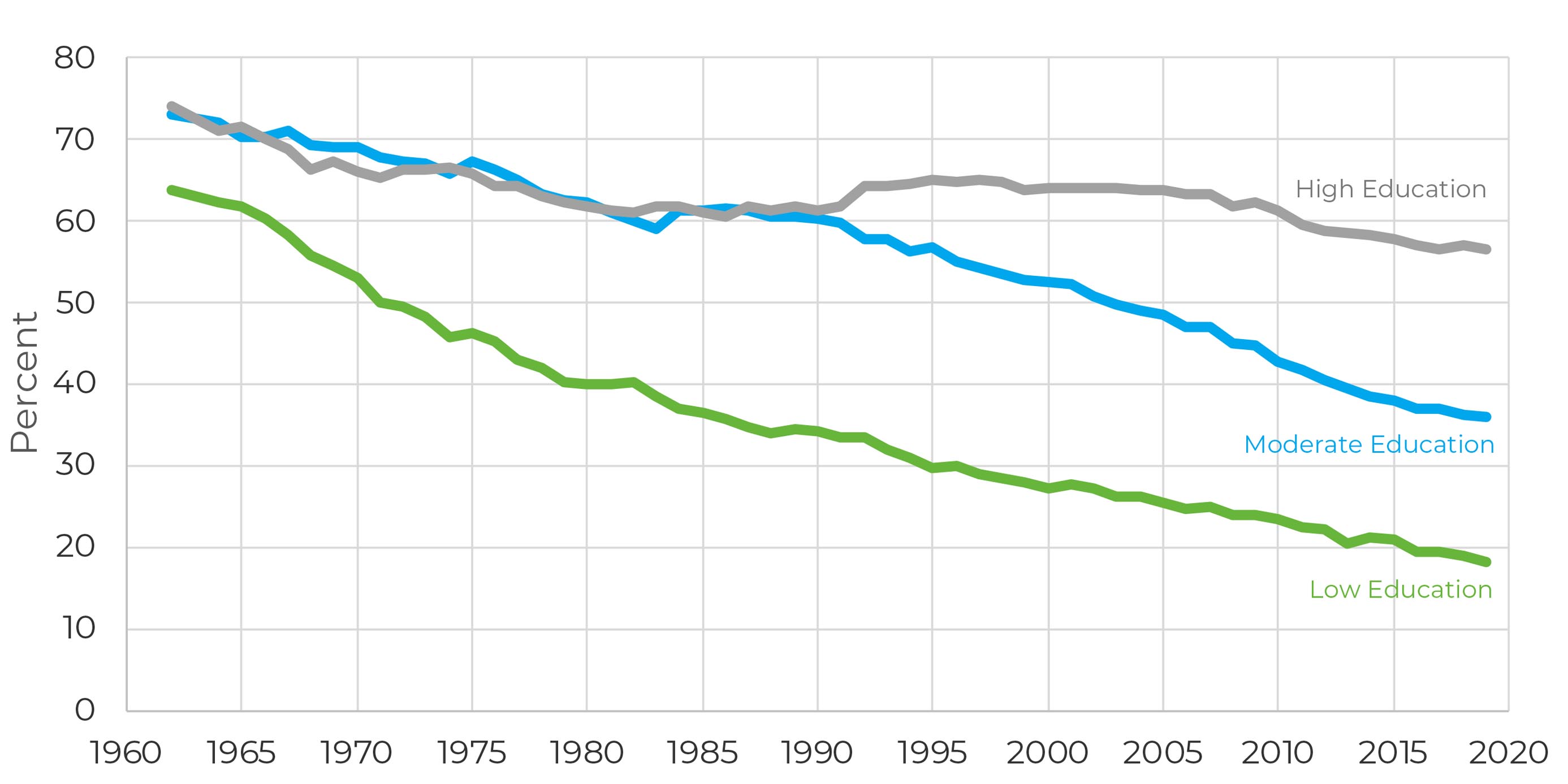 Source: Social Capital Project analyses of Current Population Survey data. See notes 16, 38 and 39 for more details.
Two-thirds of births (65 percent) among women with low education occur outside of marriage as of 2018 along with half (52 percent) of births to moderately-educated women (Figure 9). Among highly-educated women, however, just 11 percent occur outside marriage.40 While the share for highly-educated women rose modestly over the past 50 years (by roughly 6 percentage points), the increases for the less-educated groups were dramatic.
Figure 9. Percent of Births to Unwed Mothers, 1970-2018, by Education Level


Source: Social Capital Project analyses of National Vital Statistics Natality Birth Data 1970-2018, National Bureau of Economic Research, accessed July 2, 2020, https://data.nber.org/data/vital-statistics-natality-data.html. See notes 38 and 40 for details.
The decline in "shotgun marriage" has been particularly steep among the two less-educated groups of women, as we discuss in a previous Social Capital Project report.41 In 2007, only 2 percent of births resulting from nonmarital pregnancies followed a shotgun marriage among those with low education levels, down from 26 percent in 1977; among moderately-educated women, the figure was only 8 percent in 2007, down from 34 percent in 1977. However, among the highly educated, 27 percent of 2007 births resulting from nonmarital pregnancies followed a shotgun marriage, down only modestly from 34 percent in 1977.
A high rate of unwed childbearing is not the only factor contributing to greater family instability among non-college-graduate adults. Those with less education are also more likely to divorce.42 Women with a bachelor's degree and married for the first time are very likely to be married for a long time; 78 percent will still be married 20 years later. However, among women entering their first marriage who have some college but no bachelor's degree, it is as likely as not that their marriage will end within 20 years. Among women with no more than a high school diploma, just 40 percent will still be in their first marriage after 20 years.
Family instability differences between racial groups in the US are also striking. In the early 1960s, the share of women who were married was quite similar for non-Hispanic whites, non-Hispanic blacks, Hispanics, and other women. Roughly 65 to 70 percent of women ages 15 to 44 in each group were married in 1962 (Figure 10). Marriage rates subsequently declined across racial groups, to the point where fewer than half were married in 2019; however, marriage declined much more among African American women than among the other groups; by 2019, fewer than a quarter (24 percent) of black women between the ages of 15 and 44 were married.
Figure 10. Percent of Women Ages 15-44 Who are Married, 1962-2019, by Race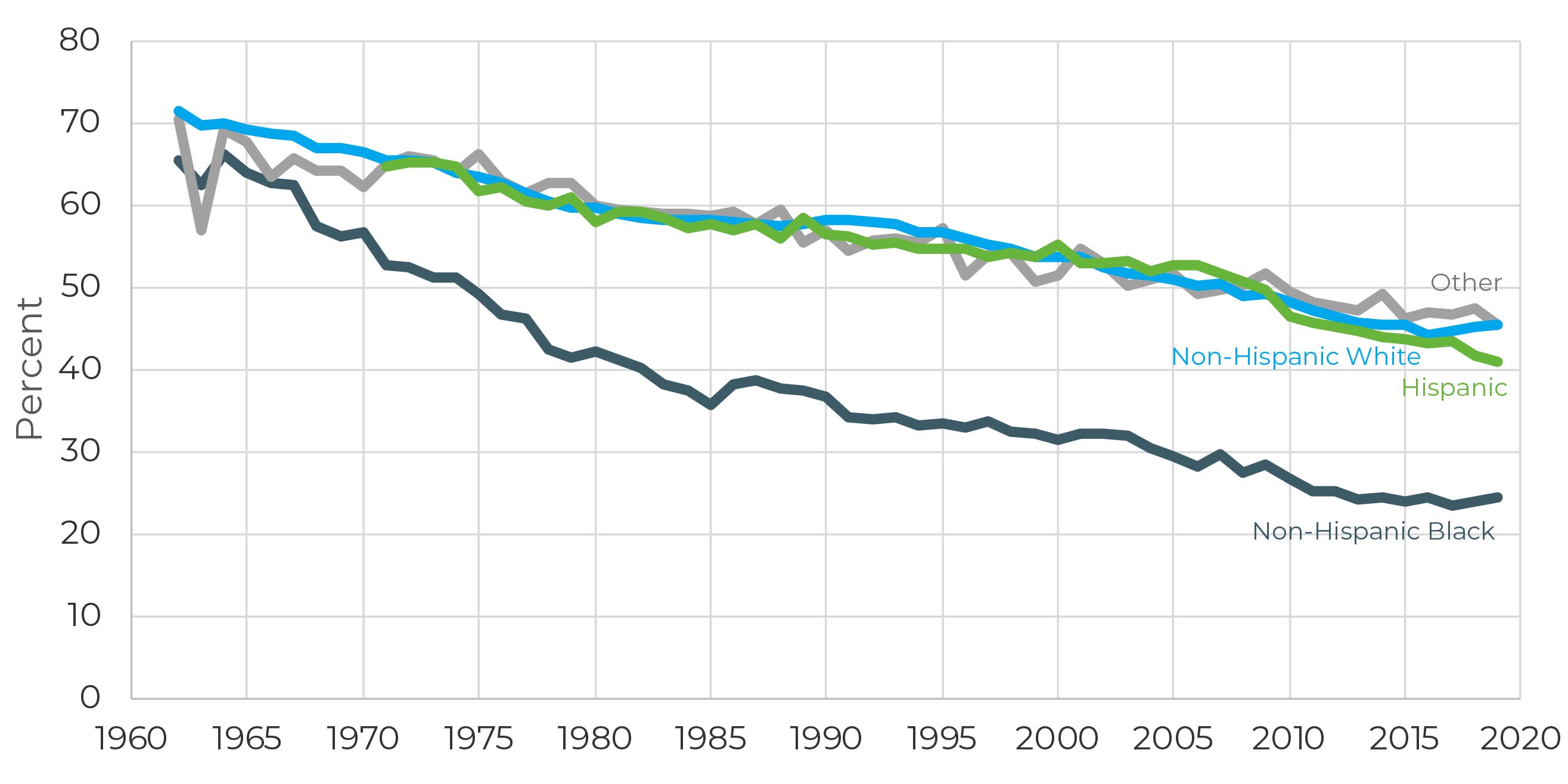 Source: Social Capital Project analyses of data from the Annual Social and Economic Supplement to the Current Population Survey, using the Integrated Public Use Microdata Series Online Data Analysis System.
These patterns are no less dramatic looking at the share of women ages 30 to 34 who have never married. In 1962, fewer than 10 percent of such women in any racial group had never married; by 2019, 28 to 37 percent of non-black women in their early 30s had never been married, but that was true of 64 percent of black women.43
Racial differences in shotgun marriage have narrowed over time, however. In 2007, 13 percent of non-Hispanic white births resulting from a nonmarital conception followed a shotgun marriage, compared with 3 percent of non-Hispanic black births. In 1962, the figures were 51 and 29 percent, respectively. (However, blacks remained much more likely than whites to be faced with the decision to have or not to have a shotgun marriage. Three in four births—73 percent—to black women in 2007 involved nonmarital conceptions, compared with 38 percent for non-Hispanic whites.)44
African-American women are also more likely to have a marriage end in divorce. Nearly two-thirds (63 percent) of first marriages among black women will end in divorce within the next twenty years. That compares with 47 percent for non-Hispanic whites, 46 percent for Hispanics, and just 31 percent for Asian Americans.45
Although unwed childbearing has increased a great deal across all racial groups, it is higher among black and Hispanic women than white women (Figure 11). Over two-thirds of births to black women (69 percent) are to unwed mothers, and over half (52 percent) of births to Hispanic women are. Among non-Hispanic white women, the figure is just 28 percent, though that was up from only 2 percent in 1960.
Figure 11. Percent of Births to Unwed Mothers, 1960-2018, by Race
Source: Social Capital Project analyses of National Vital Statistics Natality Birth Data 1970-2017, National Bureau of Economic Research, accessed January 31, 2020, https://data.nber.org/data/vital-statistics-natality-data.html. See note 29 for details.
As a consequence of all these patterns, African American children are especially likely to live apart from one or both of their parents compared with other children (Figure 12).46 Roughly six in ten black children are apart from at least one parent—about twice the share of non-Hispanic white and Hispanic children. This proportion appears in Figure 12 to be down from the mid-1990s high, but breaks in the time series, including a significant one between 2006 and 2007, overstate the true decline.
Figure 12. Percent of Children Living without One or Both Parents, 1970-2019, by Race


Source: Social Capital Project analyses of published Census Bureau tables on Historical Living Arrangements of Children, Tables CH-2, CH-3, and CH-4. https://www.census.gov/data/tables/time-series/demo/families/children.html. "Parent" refers to biological, step, or adoptive parents. The Current Population Survey was changed in 2007 to better identify both parents.
What Is Driving Rising Family Instability and the Socioeconomic Divide in Marriage?
While the trends in family instability and the variation across socioeconomic groups are unambiguous, it is much less clear what has caused these patterns. One leading explanation is that they reflect a worsening in the economic fortunes of men—the so-called "marriageable man" hypothesis, first proposed by sociologists William Julius Wilson and Kathryn Neckerman.47
The hypothesis proposes that men must meet some economic threshold that makes them "marriageable" to women and that fewer men have surpassed that bar over time. It assumes that the decline in marriage is primarily a result of fewer women wanting to marry the men on offer (rather than fewer men wanting to marry). The decline in marriage is then said to have increased single parenthood, by some combination of (1) more unmarried women at risk of a nonmarital pregnancy, (2) fewer shotgun marriages as a result of men being less economically attractive as husbands, and (3) more divorces for the same reason.48 The low marriageability of the men on offer to poorer women is also said to explain why family stability is so much lower among more disadvantaged socioeconomic groups.
A number of studies have found an association across geographic areas between male employment and the prevalence of marriage, and research also consistently finds that men who are employed or have higher earnings are more likely to be married or to marry.49 These studies are rarely able to convincingly make a strong causal case. Indeed, it might be argued that where marriage is weaker as an institution, men change their behavior in ways that worsens their economic outcomes.50 Robert Lerman and Bradford Wilcox's research suggests that men's employment rates would be higher if the marriage rate were the same today in 1980. In their words,
When young men and women replace formal commitments with informal relationships or none at all, work becomes less urgent, especially for men, who have historically taken all kinds of jobs to support their families. With no wife or children to support, men become less focused on the job market.51
Another study finds evidence that the liberalization of divorce and increased economic opportunities for women have reduced the incentives for men to make themselves more marriageable.52
Consistent with these lines of reasoning, rigorous research finds that marriage causally increases men's wages.[53] One study comparing identical twins who differ in their marital statuses estimates that marriage increases wages by about one-fourth.54 A weakening of the institution of marriage might have reduced men's perceived obligations and changed their incentives, thereby leading to less "marriageability" in the form of lower employment rates and wages.
Moreover, separate from point-in-time analyses, very few studies have considered the extent to which the
decline
in marriage or the
rise
in single parenthood can be explained by a decline in economic circumstances of men. Most worrisome trends in family stability began in the 1960s or earlier, during the so-called "Golden Age" of the American economy. Beyond that discrepancy, the conclusion of David Ellwood and Christopher Jencks, writing in 2004, is almost certainly applicable today: "men's real wages have not changed enough over the past generation to explain much of the change in family structure, even among the least educated."
55
In fact, this conclusion is even more compelling today, because male wage trends have been much more positive over the past twenty-five years than they were in the preceding quarter century.
Have Men Become Less Marriageable?
Whether there is anything to the marriageable men hypothesis depends centrally on the thresholds for marriageability that women have applied and how many men have been able to reach those thresholds. The simplest threshold might be that men must bring to the table at least a minimum level of purchasing power. One way to assess whether fewer men have achieved that level is to consider trends in inflation-adjusted after-tax hourly compensation among young men, as in Figure 13.56 We confine our analyses to non-Hispanic men to isolate trends in marriageability from changes in population demographics over time.57
The chart displays three trends for non-Hispanic men between the ages of 25 and 29—one for median pay (where half of men make more and half make less), one for the 30th percentile of pay (where 70 percent of men make more), and one for the 10th percentile of pay. Hourly pay is available in this data only back to 1973. In Figure 13, all pay rates are scaled so that the 1973 rate is equal to 100.
Figure 13. After-Tax Hourly Compensation of Non-Hispanic Men Ages 25-29, 1973-2019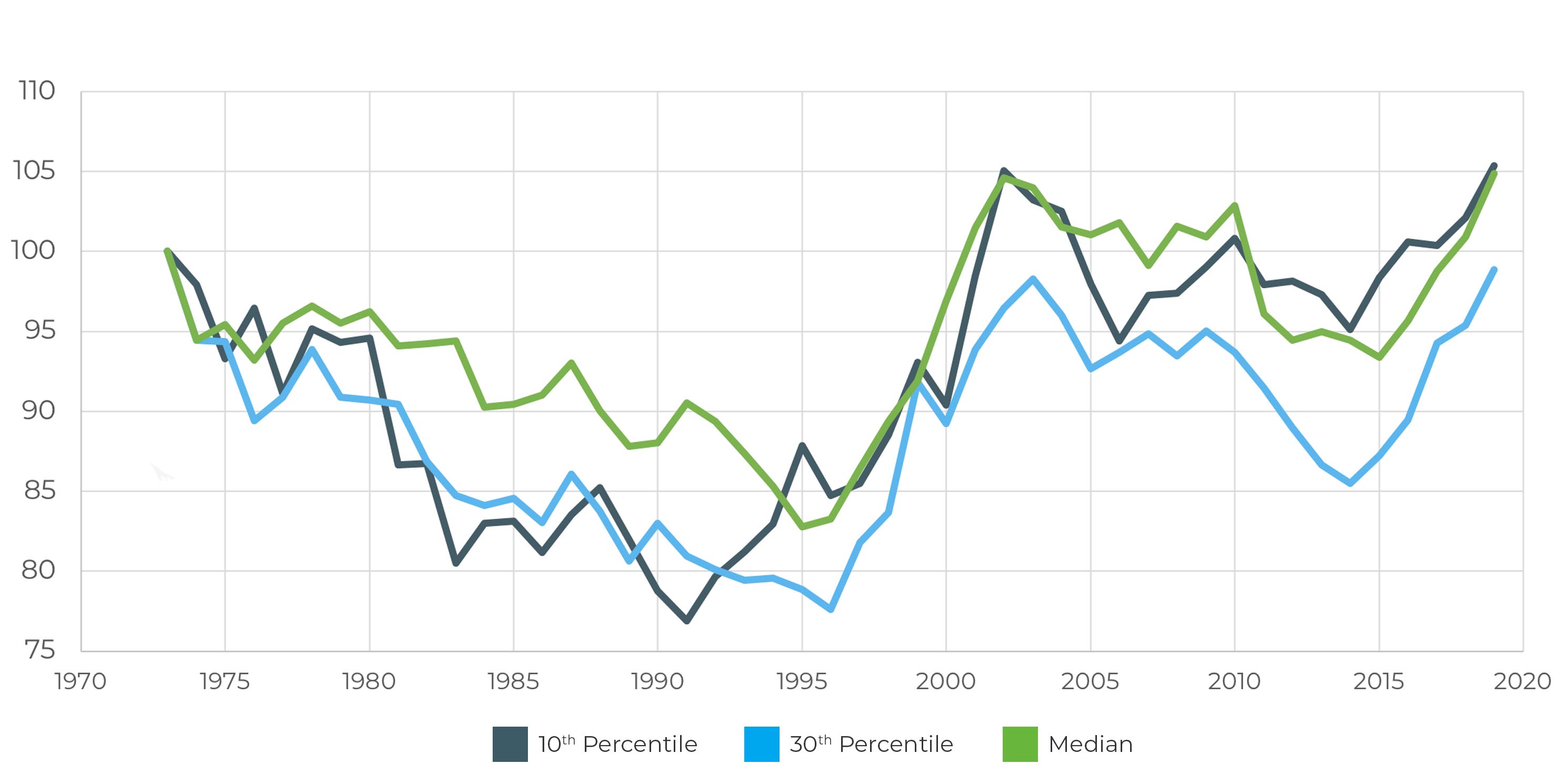 Source: Social Capital Project analyses of Current Population Survey data. See end note 56.
The inflation-adjusted hourly pay of young non-Hispanic men declined sharply between 1973 and the early- to mid-1990s. At its low point, in 1995, the median was down 17 percent. (The 1973 level was probably higher than it had even been to that point.58) The 10th and 30th percentiles fell as much as 22 to 23 percent.59
One caveat to these twenty-year trends is that in supplemental analyses not shown here, we found that these large declines were much less pronounced among middle-aged men. Among non-Hispanic men between the ages of 35 and 44, median hourly take-home pay dipped below the 1973 level in 1974 and 1996, but it was otherwise always at least as high as in 1973. Through the mid-1990s, the 30th percentile was never more than 5 or 6 percent lower than in 1973 and was above the 1973 level from 1975 to 1989. The 10th percentile fell more consistently between 1973 and the mid-1990s, but it bottomed out only 11 to 12 percent lower than in 1973. Even among men ages 30 to 34, the median never fell by more than 10 percent, and the 10th percentile was never lower than 16 percent of its 1973 level.
Part of the drop in pay for younger men appears to reflect an increase in post-secondary schooling, which might have altered the timing of career earnings. Staying in school longer can be expected to increase lifetime earnings, but in the short-run, pay might be lower than it would have been had a person gained years of work experience rather than being in school. It may take a few years for the benefit of extra schooling to exceed the cost of foregone work experience. 60
The deep recessions between 1973 and 1975 and between 1980 and 1982, as well as the more moderate recession from 1990 to 1992, may have hurt hourly pay rates, though by reducing employment, they had a bigger impact on annual pay. Falling productivity growth and accelerating inflation (through the early 1980s) also hurt men's pay during this period.
Another likely contributor to declining pay among men was the shift from an era in which men were often sole breadwinners to one with many more two-earner households. The pervasiveness of the idea that a husband should be able to raise a family on one income may have translated into men—especially working-class men—enjoying "breadwinner rents" in excess of the pay that their productivity would have justified. Previous research has suggested that men's pay outpaced their productivity during the decades of the twentieth century that marked the high point of the American labor movement, which had as a primary goal securing a "family wage" for male workers.61 As married women became more attached to the labor force in the 1970s, the rationale for paying a man enough to raise a family on one income became difficult to justify, especially as economic competition from abroad became more intense. Finally, as noted above, the decline in marriage itself may have reduced men's hourly pay by weakening the sense of obligation to support a family that men faced.
Regardless of the causes, it does appear that fewer young men would have been able to meet a fixed absolute threshold for marriageability over the course of the 1970s, 1980s, and early 1990s. However, the simplest version of this hypothesis runs into a problem after the mid-1990s, as the pay of young men has recovered over the past 25 years. This quarter century has been marked by two strong periods of wage growth—the late 1990s boom, and the recent, pre-pandemic expansion—and by the Great Recession. Median pay exceeded its 1973 level from 2001 to 2010 (except in 2007), and in 2018 and 2019. Like the median, pay at the 10th percentile was higher than ever before in 2019 (essentially at its 2002 level), though last year the 30th percentile remained a percentage point lower than in 1973.
While Figure 13 is based on hourly pay, it might be argued that marriageability is a function not of earnings per hour but annual earnings. After all, someone can spend much of the year out of work even if their hourly pay is as high as ever. Employment among prime-working-age men has declined steadily over time, so perhaps the focus on hourly pay is missing the declining marriageability story.
We use hourly pay here precisely to avoid complications around declining employment rates, which are widely misunderstood. There is a cyclical component to employment that reflects changes in labor market conditions, but over the past fifty years, this component has been less important than the long-term decline in the share of men seeking work. While many observers interpret this decline in prime-age "labor force participation" as an indicator of falling demand for male labor at a given rate of pay, the evidence is stronger that it reflects declining labor supply—fewer male workers who want a job at prevailing pay rates.62
Indeed, the fact that hourly pay is as high as ever is one indication that falling demand is not the main culprit, but it is not the only one. Research suggests that men who want a job or are not working because they have given up hope of finding a job account for only a small fraction of the decline in prime-age male labor force participation over the long run. Most of the decline involves disabled men and able-bodied men who tell government surveyors they do not want a job.63
For comparison, Figure 14 provides the trend from 1973 to 2018 in non-Hispanic men's after-tax annual compensation.64 The basic story is the same as when hourly pay is tracked. The trend reflects the business cycle more over the first twenty years than is the case for the hourly pay trend, and the low points for the 10th and 30th percentiles shift back to the early 1980s double-dip recession. The 30th percentile of annual compensation declined by 25 percent by 1982, and the 10th percentile was one-third lower in 1983 than in 1973. Despite these striking drops, annual pay subsequently recovered. The median was higher in 2018 than in any previous year, and in the twenty-year period from 1998 to 2018, it was higher than in 1973 in all but six years. The 30th percentile finally exceeded its 1973 level in 2018. The 10th percentile was higher than in 2018 only in 1999 and 2001.
Figure 14. After-Tax Annual Compensation of Non-Hispanic Men Ages 25-29, 1973-2018


Source: Social Capital Project analyses of Current Population Survey data. See end note 64.
Clearly a simple story about absolute thresholds determining marriageability cannot explain the fact that marriage rates are so much lower today than in 1973 and single parenthood so much higher, since male pay is about as high as it was then. It is possible that the earlier, roughly 20-year, decline in male pay reduced marriage and increased single parenthood over the 1970s, 1980s, and early 1990s, and then cultural or other factors continued these trends once pay started rising again. But there is nothing in the marriageable men hypothesis as typically stated that would predict an asymmetric response of marriage to men's economic circumstances, where declining pay reduces marriage but rising pay does not increase it. Perhaps men born in the 1950s and 1960s were less marriageable, single parenthood became more normal, and men born in the 1970s and 1980s were socialized by their parents into different attitudes about marriage and single parenthood.
The marriageable men hypothesis may fare better if more nuanced thresholds are invoked. One possibility is that what matters is how men are doing relative to how the previous generation of men were doing. Harvard economist Raj Chetty and his research team have found that the share of men with individual income that exceeds their father's at the same age fell dramatically over time.65 Figure 15, based on our modification of their estimates, shows that while 95 percent of thirty-year-olds in 1970 exceeded their father's income, by 2014 just 44 percent did (see the right axis).66 In only five years after 1990 did half of men surpass their father, a threshold shown by the bolded dashed line.
Figure 15. Generational Mobility of Young Men, 1969-2018

Source: Social Capital Project analyses using data from Chetty et al. (2017) and the Integrated Public Use Microdata Series (IPUMS) Online Data Analysis System. See end notes 66 and 67.
The trend is similar if one instead computes the ratio of two median annual individual incomes—that of non-Hispanic men ages 25 to 29, and that of non-Hispanic men the same age thirty years earlier (also shown in Figure 15).67 Men in their late 20s in 1969 earned 3.6 times what their counterparts did in 1939. By 1979, the ratio had plummeted to 1.7, indicating that young men were 70 percent richer than young men in 1949 were. The figure was just 12 percent by 1989. At some point in the 1990s, the ratio reached one, indicating that the median personal income for young men was no higher than for young men thirty years earlier. The ratio dipped below one from 2001 to 2012. (Note, however, that these estimates do not take taxes into account, which have fallen over time.) In 2013, the median late-twentysomething male was finally once again better off than his counterpart thirty years earlier. That remained the case in 2018, though only barely.
The dramatic declines in Figure 15, however, primarily reflect how poor men were around 1940 and 1950, which made it relatively easy for men around 1970 and 1980 to exceed those incomes. Marriage rates were high and single parenthood rare in the 1940s and 1950s. Further, it is difficult to imagine that young women in 1979 looked at men who were 70 percent richer than the previous generation of young men had been and found them wanting because they were not 260 percent richer (as was the case for young men ten years earlier). And the ratio of medians was about the same in 2018 as in 1989, though marriage kept falling during this period, and single parenthood kept rising.
Another possible threshold for marriageability is that a husband should make sufficiently more than his would-be wife. Figure 16 shows the trend in the ratio of two hourly pay medians—that of non-Hispanic men ages 25 to 29, and that of non-Hispanic women in the same age range.68 In both 1973 and 1980, the male median was 40 percent higher than the female median, but the ratio dropped fairly steadily from 1980 through 1995. In both 1995 and 2019, men had an 11 to 12 percent advantage over women. That stability, while family instability continued to rise, weakens the case that marriageability is about what men make relative to women.
Figure 16. Ratio of Male-to-Female Hourly Pay, Non-Hispanics Ages 25-29, 1973-2019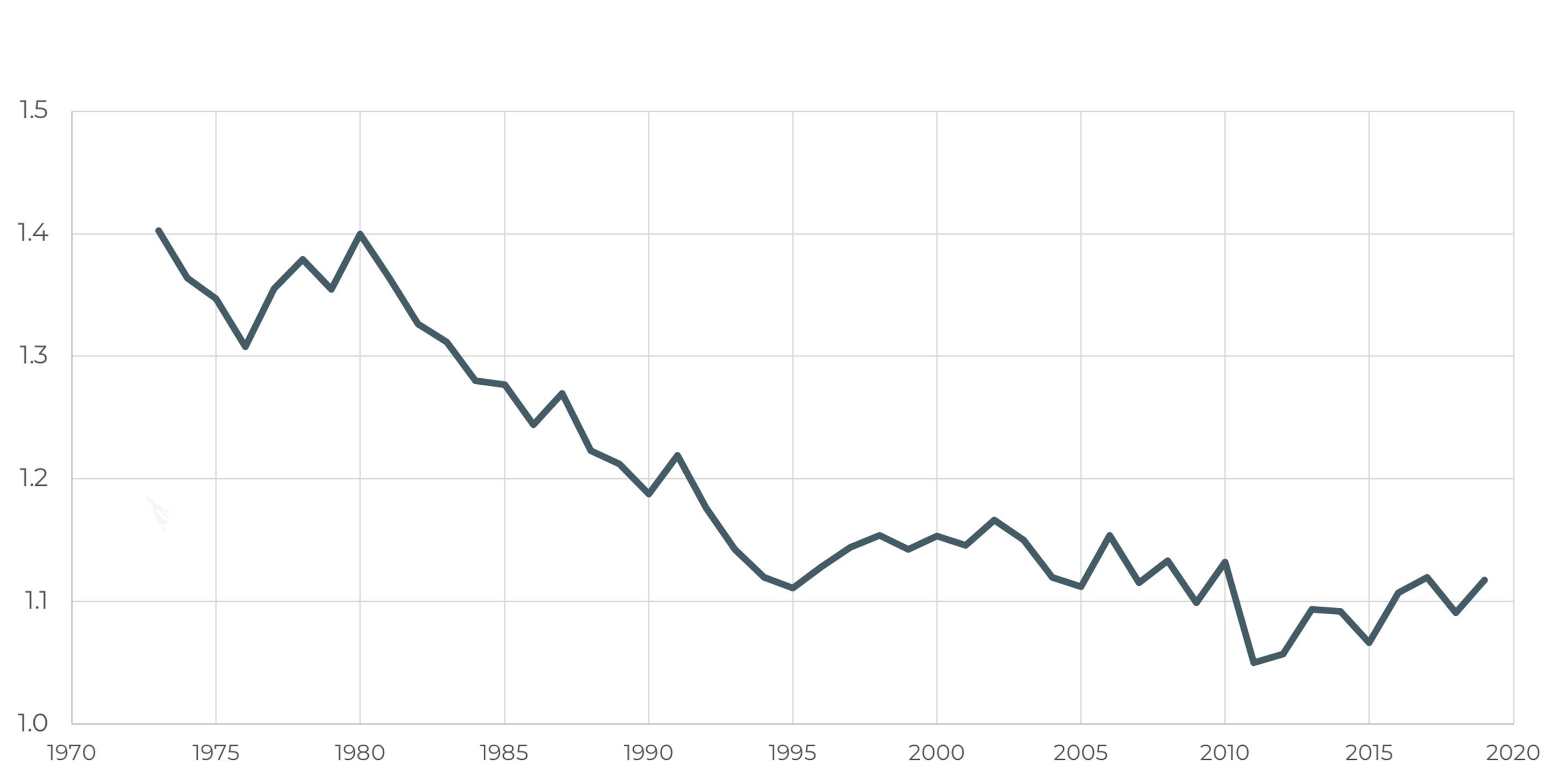 Source: Social Capital Project analyses of Current Population Survey data. See end note 56.
Income inequality has become a focus of many public commentators and policymakers in recent years both generally and specifically in regards to its effect on marriage.69 If marriageability thresholds for men in the bottom half of the distribution are tied to what upper-middle-class men make, then fewer such men have been marriageable over time. (See Figure 17.) In 1973, the median pay of non-Hispanic men in their late 20s was 65 percent the pay of the 90th percentile of such men. By 2019, it was only 47 to 48 percent. Unlike the other trends examined, this trend is more or less continuous over the period. However, given that the median is no lower today than in 1973, it reflects the rise of pay higher up. It is unclear why the potential wives of men in the bottom half of the pay distribution would be more likely to marry someone in 1973 than in 2019 just because upper-middle-class men were doing a lot better by 2019.
Figure 17. Ratio of 90th Percentile to Median Hourly Pay, Non-Hispanic Men Ages 25-29, 1973-2019


Source: Social Capital Project analyses of Current Population Survey data. See end note 56.
The evidence, then, suggests that men are no less marriageable by the most straightforward metrics than they ever were. Analyses that suggest otherwise tend to suffer from one of two serious mistakes. Many show trends in hourly wages or annual earnings by educational attainment rather than for different percentiles.70 Since educational attainment has risen over time, trends among men with, for example, no more than a high school diploma will compare a larger group of men in 1973 to a smaller group of men with lower skills today. That results in a downward pull on the trend in pay that reflects nothing more than an apples-to-oranges comparison between a relatively advantaged group and a relatively disadvantaged group. It is like comparing today's 10th percentile to the 40th percentile fifty years ago. Other studies use estimates that overstate the extent to which inflation has eaten into rising income.71 Many analyses make both of these errors.
It should not be surprising that the marriageable men hypothesis is too simplistic to explain the decline in family stability. The United States has experienced dire economic circumstances, such as the Great Depression, without the kind of family change that the country has experienced over the past 50 to 60 years.72 Even if the hypothesis is held to apply asymmetrically to the 1970s, 1980s, and early 1990s, the fact that rising male pay since the early 1990s has not translated into a reversal of family decline should give pause to policymakers who would seek to revitalize the family through economic means. (And again, the earlier decline in "marriageability" may have been a reflection of weakened incentives to marry rather than the effect of changing economic opportunities among men.)
An Alternative Hypothesis: Affluence Diminishes Social Capital
In contrast to the marriageable men hypothesis, which is premised on worsening economic conditions, the Social Capital Project has argued that rising family instability is actually a byproduct of the nation becoming richer. As discussed in our flagship report, What We Do Together, a wide variety of indicators suggest that "associational life" in America has withered over the past half century.73 We do less together, with our neighbors, our coworkers, and other members of our local communities. Family connections have also become more frayed. In doing less together over time, the stock of valuable social capital available to us has diminished.
What We Do Together argued that declines in our associational life, including family decline, are the consequence of rising affluence. Americans can afford to satisfy more of their needs through paid services and commercial insurance. The ability to save and opportunities to insure risks and smooth income have increased. There is less need to rely on grandparents for child care or neighbors for help with ambitious projects or churches and unions for financial support in hard times. And in material terms, it has become less important to have a spouse, a co-parent, or in-laws.
Affluence also led to Americans aiming higher up Maslow's hierarchy of needs.74 Earlier generations did not have the luxury of taking their basic material needs for granted. Today, however, Americans can devote considerable attention to self-fulfillment, privacy, and individualist pursuits.75 Relationships, including marriages, became more about the satisfaction gained by the parties involved and less about broader societal obligations.76 As Americans have become wealthier, the opportunities for self-fulfillment have proliferated: education, career, dating, hobbies, and travel, to name a few. Marriage and childrearing must compete with these alternatives, which has proved difficult as the transition to adulthood has extended into the twentysomething years.77 Advances in personal technology have made it easy to substitute pornography or no-strings dating for sexual gratification within marriage (or even within committed nonmarital relationships).78
This emphasis on self-fulfillment was a driving factor behind expanded professional pursuits for women, which was also facilitated by advances such as cheaper home appliances and processed food and the ability to afford child care (to say nothing of the development of more effective birth control). For well-educated women, the opportunity cost of getting married too soon or to the wrong person or of having children became magnified. Marriage and fertility rates fell correspondingly.
The new birth control methods, along with legalized abortion, also undermined the view that nonmarital sex was wrong and to be avoided.79 In a more general sense, by reducing the consequences of risky choices, affluence eroded support for moral constraints that impeded the self-realization and freedom of well-off Americans who could manage risk well. Rising opportunities for well-educated single women made single parenthood less financially disastrous for them. More women could afford divorce, and that reduced the stigma surrounding it. Increased demand for divorce led to liberalized divorce law, making the trend self-reinforcing.80
Affluence was also behind the increased purchasing power of the young baby boomers, spawning the counter-cultural changes in 1960s and 1970s music and fashion.81 Those changes further eroded traditional moral codes. Scientific discoveries and rising economic security also contributed to secularism's advances, undermining traditional morality and weakening involvement with religious institutions.
If American declines in family life and associational life more generally were caused by affluence, then there is a paradox requiring explanation: why does associational and family life remain stronger today among the well-off than the worse-off?82
Even in 1960, family instability was more common among lower-income Americans than upper-income Americans. The opportunity cost of an unwed birth has been and remains lower for disadvantaged women than for advantaged women in the sense that, for them, an unwed birth does not as often mean the delay or forfeiture of education or career goals. That can weaken vigilance about avoiding unwed pregnancies.83 Also, for women whose lives are chaotic and unstable, motherhood, even without a stable relationship, may add a great deal of meaning to their lives.84 For some couples, the same sorts of personal challenges that lead to employment problems can also produce relationship problems. For others, the stresses of poverty exacerbate the usual relationship challenges common to all couples.
But rising affluence has also affected the associational and family life of those with greater and fewer resources differently. Among the relatively advantaged, private safety nets have remained strong and have even grown stronger. The incomes of men and women have both increased significantly, and individuals looking around at their extended families, friends, and neighbors have seen the incomes of those in their networks rising as well. Professional opportunities have expanded, especially for skilled women.
With stronger private safety nets, well-off men and women have been able to relax their commitment to inconvenient moral constraints. However, these moral constraints have historically served to protect the more vulnerable of society, who are less well-positioned to manage risk, from the consequences of unwed childbearing, divorce, and single parenthood. Affluence and individualism also weakened the attachment of the well-off to institutions and to neighbors.
Lowered commitment on the part of the well-off to moral constraints and institutions has had implications for less advantaged men and women, however. Without buy-in and enforcement from the well-off, commitment to moral constraints such as delaying sexual activity until marriage weakened among the vulnerable too, but with greater consequences. Since the poor have less of a financial stake in marriage, moral codes and cultural norms were always more important for enforcing marital stability among the disadvantaged than among the advantaged.85
With reduced participation in and funding of institutions by those with resources, those institutions became less able to serve the vulnerable (who were usually even less likely than the advantaged to participate in those institutions). Rising economic segregation also meant that whatever moral or institutional leadership might have been provided by the well-off followed them to enclaves often far removed from the social worlds of the less well-off.86 The church pews remained fuller in more affluent communities than elsewhere, but those communities were ever further from the disadvantaged Americans who needed them.87 Regardless, greater individualism made the have nots less interested in what the haves thought about their choices anyway.
Traditional moral guardrails, thus, became less effective as protective barriers against calamity among Americans with fewer resources. While the well-off could manage the greater risks of, say, nonmarital sex adequately, many other people could not. Incorrect or inconsistent use of contraception produced many more nonmarital pregnancies among them than among either well-off Americans or the worse-off Americans of earlier generations (who were more tightly bound by taboos against nonmarital sex). The availability of birth control and abortion reduced pressure on men to enter shotgun marriages or provide child support, since they could argue, conveniently, that childbearing was a woman's "choice."88 Increased nonmarital births and declining expectations of marriage became more common and self-reinforcing.
Institutional decline, the breakdown of traditional morality, and economic segregation (concentrating the stresses and challenges of poverty) sowed distrust among less advantaged Americans. That distrust extended to relationships between men and women, exacerbating the decline in marriage in impoverished communities.89 The result has been the paradox of rising affluence weakening the families and associational life of Americans across the socioeconomic spectrum, but doing more damage among the least affluent.
The Role of the Expanding Public Safety Net

Another effect of rising societal affluence was the replacement of private safety nets with a public one. An affluent and non-judgmental polity sought to mitigate the greater risk caused by weakened institutions by substituting an expanded public safety net at the federal level. But public "anti-poverty" programs often exacerbated the problem of family instability by making single parenthood a more viable option and by discouraging marriage among those receiving benefits.
Ever since Charles Murray's landmark 1984 volume, Losing Ground, critics of the safety net have warned that antipoverty policy might promote single parenthood.90 A safety net marginally reduces the costs of single parenthood, nonmarital childbearing, and divorce. It also can create a significant tax on marriage because the addition of a spouse with income typically reduces safety net benefits, and if he has only modest earnings or unsteady employment, the trade-off may not be worthwhile. The evidence on this question—as for so many of the important empirical questions discussed in this report—has proven elusive. Most of it has focused on changes in the primary cash transfer programs available to single mothers—Aid to Families with Dependent Children (AFDC) and its successor, Temporary Assistance for Needy Families (TANF).91 Single parenthood continued to increase in the 1970s and beyond, even though the inflation-adjusted value of AFDC and TANF benefits fell significantly.
But the means-tested welfare system consists of more than 80 programs that provide cash, food, housing, medical care, and social services to poor and lower-income Americans.92 Most all of these programs penalize marriage, such that when household income increases, welfare benefits decrease.93 The AFDC and TANF research is inadequate for assessing whether the expansion of the entire safety net over time has affected trends in family instability.
In Figure 18, Line 1 shows changes in the average value of AFDC and TANF over time.94 The monthly AFDC benefit (shown in the chart annualized by multiplying it by 12) peaked in 1968 in inflation-adjusted terms. It fell steadily thereafter, eventually settling under TANF at less than half its high point and lower than in 1940. Line 2 reinforces this conclusion with a different measure from a different source, showing from 1969 to 2018 the annual amount actually received by the median female-headed household with children, among those who received at least $3,000 in benefits (in 2019 dollars).95 The two trends align remarkably well.
Figure 18. Annual Value of Federal Benefits Available to a Female-Headed Household, 1940-2018

Source: Social Capital Project analyses of various sources. See end notes 94-98.
But while cash transfers to single-parent families became less generous after 1968, the overall benefits on offer to them continued to increase sharply. The food stamp program grew steadily, especially after an expansion in 1971. Medicaid was enacted in 1965 and expanded thereafter. Figure 18 also shows the trend from 1969 to 1986 in the maximum AFDC benefit for a family of four (Line 3) and from 1975 to 1986 in the maximum total benefit from AFDC, food stamps, and Medicaid for a family of four (Line 4).96 Comparing Lines 1 and 3 shows that the maximum AFDC benefit for a family of four follows the same trend as the average AFDC benefit for all families over the years in which both are available. We will use this similarity in the next chart to extend Line 3 back to 1940.
Comparing Line 3 to Line 4 shows how much more valuable food stamps and Medicaid are over and above AFDC. Again, the trends for the two lines are similar.
Line 5 comes from the annual benefit data used in Line 2. It reassuringly suggests that we can extend Line 4 into the recent past. Line 5 provides, from 1979 to 2013, the median value of the annual sum of benefits from AFDC or TANF, food stamps, and Medicaid among female-headed households with children who received at least $12,000 in combined benefits.97 The levels line up reasonably well over the years they have in common from 1979 to 1986, but more importantly, the trends do. Taken together, Lines 4 and 5 suggest the same long-term decline in the value of means-tested benefits available to single-mother families that Lines 1 and 2 imply, but from a much higher late-1960s peak.
Finally, Line 6 takes other safety-net benefits into account, from 1979 to 2018. It again shows the annual median among female-headed households with children that have at least $12,000 in total benefits, but this time it includes a variety of other cash and noncash means-tested benefits.98 This comprehensive measure declines less than the other measures.
Using the information in Figure 18, we can create a rough long-term trend in the value of federal safety-net benefits. While we lack earlier estimates for benefits other than AFDC, few were available in 1965. Medicaid had just been enacted, while the food stamp program was much smaller than it was after the 1971 expansion. The program extended nationwide only in 1974, and until 1977, beneficiaries had to purchase food stamps. The Supplemental Security Income (SSI) program began in 1974. Other programs were generally small or non-existent in 1965.
Lines 3 and 4 are directly comparable measures in principle, both relating to maximum benefits for a family of four. Since Lines 1 and 3 follow the same trend during the years in which both are available, we use the pre-1969 trend for Line 1 to extrapolate Line 3 back to 1940. Next, we connect the extrapolated 1965 estimate for Line 3 to the 1975 estimate for Line 4. Finally, we extrapolate Line 4 from 1979 to 2018 using the trend for Line 6.
Figure 19 shows the resulting line, which we use as a rough but realistic representation of the increase in safety net benefit generosity over the past 80 years. Since the amounts underlying the figure represent different concepts, we set the 1940 estimate at 100 and index other years to it. Figure 19 reveals a sharp rise in the value of federal safety net benefits over time, which is obscured by focusing on the trend in AFDC and TANF. The value of the safety net for single-mother families is 133 percent higher today than in 1940, and 56 percent higher than in 1960.
Figure 19. Annual Value of Federal Benefits Available to a Female-Headed Household vs. Nonmarital Birth Rate, 1940-2018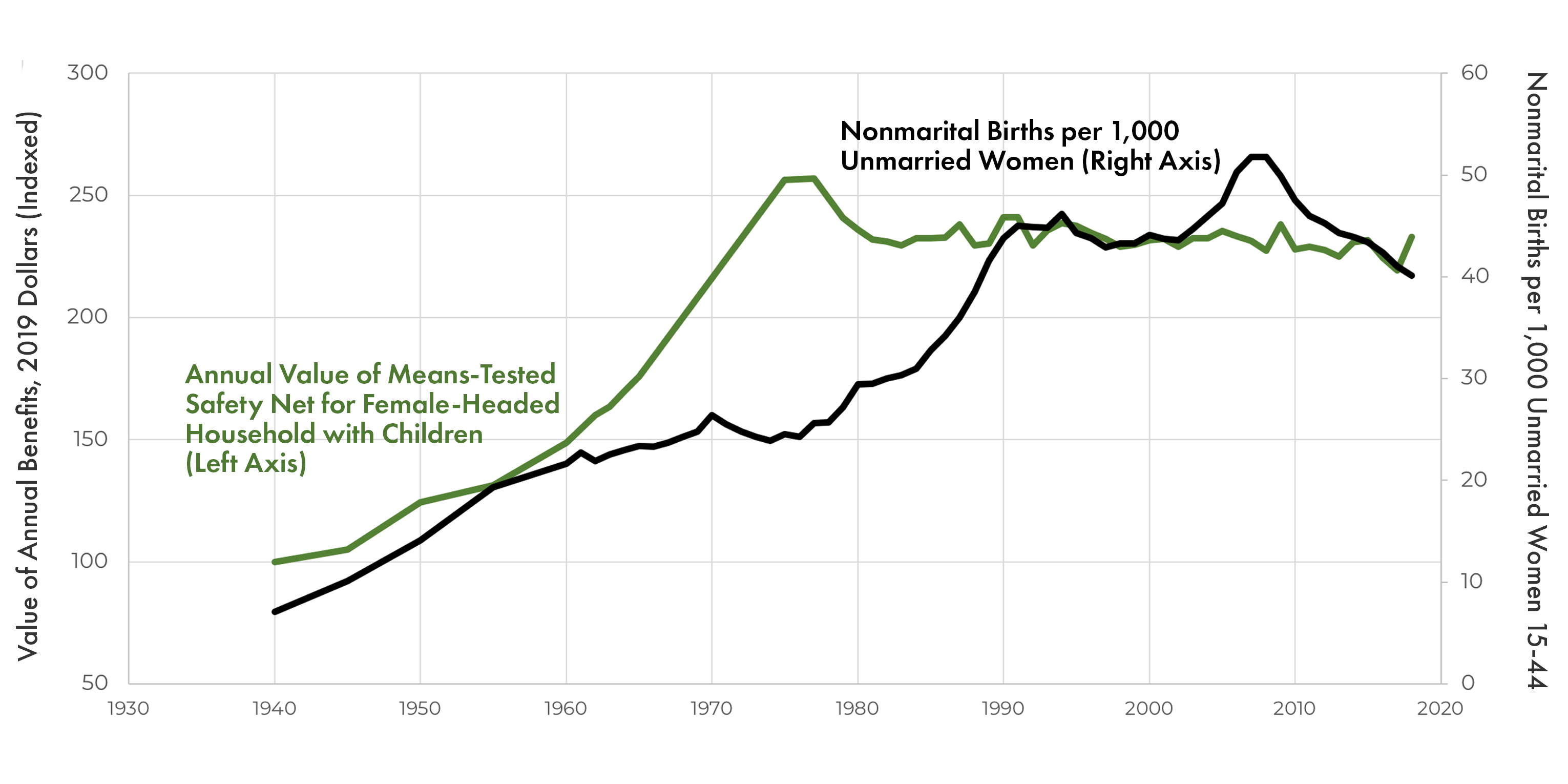 Source: Social Capital Project analyses of various sources. See the discussion in the text and end notes 94-99.
The other line in Figure 19 indicates that the nonmarital birth rate has roughly doubled since 1960. The rate rose steadily into the early 1990s and remained high thereafter (with a temporary spike prior to the Great Recession).99 The increase in nonmarital births lags the increase in benefits by roughly 15 to 20 years between 1975 and 1990.
All else equal, more than doubling the standard of living achievable from the federal safety net would be expected to encourage more women to choose single parenthood over marriage. Between 1979 and 2013, we estimate that the 30th percentile of young non-Hispanic men's annual compensation was, on average 48 percent higher than the typical safety net benefit package received by single mothers. Through the safety net alone, a single mother can achieve about two-thirds of the standard of living she could get from marrying a sole breadwinner at that compensation level. The safety net would put her about one-third higher, with no additional income, than the 10th percentile of male compensation.100
To be clear, the claim is not that single mothers can achieve affluence relying on the safety net. Their economic circumstances are challenging and would be difficult to navigate for most middle-class Americans. But the affluence of the nation has afforded a safety net that has reduced poverty significantly for single mothers and their families. At the margin, more women are able to substitute federal benefits for the income a husband would have provided them in the past.
These estimates are necessarily rough. Much work remains in sorting out and apportioning blame for the decline in family stability and its disproportionate impact on the disadvantaged. Economic insecurity and instability may have an important role. But the case for what might be called the "culture of affluence" has been unduly neglected relative to accounts that overstate the decline in men's economic standing. One aspect of this culture is that childbearing is said to be the choice of the mother, and thus fathers bear less responsibility for their children. Another is a federal safety net that not only makes it more possible for a woman to raise a child without a father but also encourages couples to remain unmarried. The combination is a troublesome mix for family stability.
Because any understanding of why family stability has declined must be incomplete and tentative, it is worth considering a range of policy options to reverse this decline.
Strengthening Family Stability
How to address the decline in family stability and its unequal consequences across different groups? Paternalists and libertarians will disagree as to whether it is appropriate for policy to encourage or discourage some behaviors over others. Liberals and conservatives will vary in their position toward hot-button cultural issues such as family planning. Apart from moral considerations, there is the practical question of whether policies are effective in reducing nonmarital pregnancies, encouraging marriage, or reducing divorce. This section discusses four broad strategies that might be pursued in order to increase the likelihood that children are raised by happily married parents. Those strategies include messaging, social programs, financial incentives, and other policies.
Messaging
One strategy policymakers and private actors can pursue is to amplify messages that advance the goal of family stability. Such efforts might involve formal public or private media campaigns or more informal shifts in public discourse and rhetoric.
Previous media campaigns related to family stability have commonly targeted the issue of teenage pregnancy. For example, in 2013, New York City launched a public education campaign directed at teen pregnancy, with advertisements posted in subways and bus stops throughout the city. The campaign aimed to deliver strong messages based on provocative data points about the potential consequences of teen pregnancy.101 Media campaigns might also be usefully organized around other messages related to family stability, such as the riskiness of too-close work relationships or pornography consumption.
Media campaigns often may be constructively organized as public-private partnerships. The private National Campaign to Prevent Teen and Unplanned Pregnancy, worked with states and localities to develop messaging, resulting in government-sponsored media campaigns in a number of states.102 As another example outside the issue of family stability, the U.S. anti-smoking campaign was led by the federal government, but private groups such as the Heart Association produced advertisements across various media.103
Other private efforts can also convey messages conducive to family stability. The popular reality television shows 16 and Pregnant and the Teen Mom spin-offs—which follow pregnant young women through their pregnancies, births, and experiences as new mothers—were not created intentionally as part of a campaign against teen pregnancy. But they may have effectively served that purpose. In particular, 16 and Pregnant, which aired from 2009 to 2014 and was highly popular among American teenagers, may have resulted in a significant decline in teen births—a decrease of 4.3 percent between mid-2009 through 2010.104
The example of 16 and Pregnant highlights the potential role of cultural messages in changing behavior. Toward this end, politicians, celebrities, and other influential people should use the "bully pulpit" to communicate messages that promote family stability. Then-Senator Barack Obama's 2008 Father's Day speech, in which he highlighted the importance of present fathers, serves as a praiseworthy model.105
In this regard, it is unfortunate that while highly educated Americans are more likely to have stable marriages and to have children within those marriages, they too often demonstrate an "unwillingness…to preach what they practice."106 One recent report showed that well-educated Californians personally embrace values and practices that are more conducive to family stability, but at the same time they are more ideologically permissive than less-educated Californians in their attitudes about families.107 While often well intentioned, the current reluctance among members of the upper class to "talk the walk" actually does a disservice to those who could benefit from hearing constructive messages about stable families.
What is more, the increasing segregation of upper- and upper-middle-class Americans from their less-advantaged counterparts translates into a diminished ability to demonstrate and communicate the importance of choices that promote family stability to those who would benefit from their example.108 And even if residential segregation were not a problem, advocating for choices to promote family stability is fraught with discomfort. Critics of the New York City campaign, for example, alleged that it stigmatized teenage parents.109 So much trickier is advocacy when it must draw on the meager "bridging" social capital remaining after decades of increasing social separation by class.
Another way to increase family stability is to help people develop the skills and knowledge necessary to prepare for, build, and maintain healthy marriages and families. Programs that aim to change behavior by providing such instruction include healthy marriage and relationship education (HMRE) programs, fatherhood programs, and programs that focus on teen pregnancy prevention.
There are a variety of HMRE programs for individuals and couples at various life and relationship stages. The federal Healthy Marriage and Relationship Education Initiative provides competitive grants to states for such programs. In addition, all states receive funding from the Temporary Assistance for Needy Families program that can be used for HMRE programs, though few states allocate funds for such efforts.110 The aims of such programs include improving conflict resolution skills, co-parenting strategies, relationship satisfaction, marital commitment, and other outcomes.
Programs designed to change behavior often fail to have significant impacts, and many critics have argued that programs funded by the Healthy Marriage and Relationship Education Initiative are ineffective.111 Evaluations of some of the earliest federally-funded HMRE programs showed few promising results, with programs that were targeted to unwed parents particularly ineffective.112 A more recent evaluation of two HMRE programs showed modestly positive results, however.113 Research indicates that programs directed to married couples appear to be more effective than those aimed at unwed parents.114 Overall, the broader literature evaluating healthy marriage and relationship education is mixed but shows that these programs can have modest effects on relationship quality and sometimes on relationship stability, even among disadvantaged participants.115
A handful of states have utilized their own funding for HMRE programs. Some states have implemented healthy marriage initiatives that focus on making marriage education widely available. Utah and Oklahoma have operated the most ambitious of these initiatives.116 Some states have pursued premarital education promotion policies, in which states provide a financial incentive to engaged couples to participate in premarital education.117 Finally, a few states have proposed or implemented policies that require couples filing for divorce to participate in divorce orientation education as a prerequisite to divorce.118
At a more local level, some communities have healthy marriage initiatives that aim to make healthy marriage and relationship education widely available.119 There are also private faith-based efforts to provide marriage education. Communio is a faith-based community marriage education effort that supports churches in fostering "strong communities by focusing on building relationship ministries that grow and support healthy marriages and strong families."120 In Jacksonville, Florida—one of the cities receiving funding, where nearly 100 churches and local organizations have been involved—divorce declined markedly over the first two years of the initiative, although it has not been rigorously evaluated.121
In addition to HMRE programs, the federal government also funds education programs that promote responsible fatherhood. A 2018 evaluation of four such programs, found a few small effects on fathers' outcomes, but mostly confined to one of the four locations. These outcomes included participation with children, nurturing behaviors toward them, knowledge of the child support system, employment status, and reported financial well-being.122 For most outcomes measured, however, there were not significant differences between those who participated in the program and those who did not.
A third category of social programs aimed at increasing family stability are those that focus on teen pregnancy prevention. Although only a small portion—11 percent—of unwed births annually are to teenage young women, teen births are nearly always to unwed mothers.123 And nearly one in four unmarried first births are to young women under 20 years of age.124 The federal government has supported programs to prevent teen pregnancy since the 1980s. Some of this funding is directed specifically towards sexual risk avoidance education (also known as abstinence education), which is based on the principle that sexual abstinence is the only acceptable standard for high school-age youth.125 Comprehensive sex education does not necessarily take a position on whether youth should abstain from sexual activity in high school and focuses more on contraception.126
There is a great deal of controversy surrounding this type of education, and states and school districts have varying requirements for sexuality education curricula.127 Some sexual risk avoidance programs and comprehensive sex education programs seem to have modest effects on teen sexual activity and pregnancy rates, but most have been found ineffective.128
Financial Incentives
Given the generally disappointing performance of social programs, a more effective way to increase family stability may be to provide clear financial incentives. Opportunities along these lines include safety net reforms to reduce marriage penalties and otherwise discourage family instability, providing additional tax benefits for married couples, and strengthening child support enforcement.
The U.S. safety net consists of many programs providing cash, food, housing, medical care, and social services to low-income Americans. By reducing the cost of single parenthood, more generous safety net programs may incentivize it. Reforms to those programs taking the form of time limits or work requirements could reduce single parenthood by making these programs relatively less appealing.
Another way to express how safety net programs affect marriage is to note that nearly all of them contain marriage penalties, or incentives that deter marriage.129 Because benefits generally decline as household income increases, and because marriage usually increases household income, low-income parents who marry often stand to lose safety net benefits. One possible solution is to increase programs' income limits, though doing so would further undermine work incentives and greatly increase the safety net's scope and cost, which is already roughly $1 trillion annually.130 Alternatively, safety net policy could disregard spousal earnings more generously when determining eligibility for benefits. But that, too, could encourage more people to rely on the safety net. Once again, pairing work requirements or time limits with greater generosity toward married parents in safety net programs would mitigate these downsides.
Two other reforms that were part of the landmark 1996 welfare overhaul are also relevant. States were given the option to implement "family caps," which limit the availability of higher benefits when additional children are born. About a dozen studies of this state option and of state experiments before 1996 produced mixed evidence on their effects, however.131 The welfare reform legislation also required teenage recipients to live with a responsible adult and attend school. The so-called "minor parent provision" appears to have reduced teen childbearing and could be extended to other safety net programs to further discourage teen births.132
Alternatively, safety net program work requirements could be adjusted for married couples where they currently exist, particularly where time limits already mitigate the risk of long-term benefit receipt. For example, married parents receiving benefits from the Temporary Assistance for Needy Families (TANF) program currently are required to work more hours than single-parent families to fulfill the program's work requirement. The Welfare Reform and Upward Mobility Act, sponsored by Joint Economic Committee Chairman Mike Lee in previous Congresses, proposed eliminating this marriage penalty by making the required hours of work the same for married-parent families and for single-parent families.133
The Earned Income Tax Credit (EITC) is one of the largest cash assistance safety net programs, costing almost $60 billion in fiscal year 2018.134 It has separate benefit schedules for single and married tax filers. The schedules for married couples could be made more generous to address the existing marriage penalties within the EITC that cause benefits to be lower when many couples are married than when they are single.135 (Though, some lower-earning couples receive a higher EITC when married than when single.)
Policymakers could also consider introducing tax benefits that would resemble marriage bonuses but could be justified on tax-neutral grounds.136 For example, EITC benefits for married couples could be expanded significantly more than is necessary to rectify within-EITC marriage penalties. That might be justified on the grounds that it would mitigate marriage penalties in other means-tested safety net programs, encouraging people to marry by offsetting the loss of benefits from these programs.
Similarly, the Child Tax Credit (CTC), which reduces tax liability for parents, could be expanded for married couples.137 Since the CTC only goes to families with earnings, it too mitigates marriage penalties in safety net programs by mitigating the loss of means-tested benefits when someone marries a working spouse. Alternatively, an expansion could be justified on the grounds that parents are unfairly double taxed.138 Parents who raise children are effectively taxed twice to support senior entitlements—once through payroll taxes, like everyone else, but again through the cost of raising the children whose payroll taxes will continue supporting the system. To combat this "parent tax penalty," Joint Economic Committee Chairman Mike Lee has advocated the expansion of the CTC, a goal partially fulfilled by provisions in the Tax Cuts and Jobs Act of 2017. The parent tax penalty is imposed on a single parent raising her child alone, but it is imposed on both parents in a married couple, both of whom bear the costs of childrearing.139 This "triple tax" merits a higher CTC for married couples.
A final way of supporting family stability through financial incentives is to strengthen child support enforcement. Stronger child support enforcement would make unwed and noncustodial fatherhood less attractive to men, and thus could decrease the likelihood that a man fathers a child outside of marriage or leaves his wife. However, stronger child support enforcement may increase a mother's willingness to have a child outside of marriage or divorce.140
In terms of nonmarital childbearing, child support enforcement's disincentivizing effect on men seems to be stronger than the incentivizing effect on women. Child support enforcement also appears to reduce the likelihood men will have children with multiple partners.141 However, stronger child support enforcement appears to decrease the likelihood unwed parents marry and increases the likelihood that a mother will have another non-marital birth with another partner.142
Other Policies
Policy approaches that are not explicitly designed to boost marriage or reduce unwed childbearing could also hold promise for increasing family stability. These policies generally try to mitigate obstacles that might prevent families from staying together or being formed in the first place.
One such approach is aimed at improving career prospects for younger Americans, especially young men. As we have seen, the evidence is unclear as to whether male marriageability is an important explanation for rising family instability. Regardless, many Americans clearly view financial security as a prerequisite for getting married or having children.143 Social Capital Project research has found that men who are not in the labor force tend to have unstable families; they are less likely to be married but more likely to have children with multiple partners.144 Therefore, efforts to improve economic opportunities could help people meet their expectations regarding work and marriage, could make men more attractive as potential partners and fathers, and thus may lead to greater family stability.
As is generally the case, successful interventions are often disappointingly rare, and the same is true of programs that might be expected to increase male marriageability. But at least one model merits serious consideration based on rigorous evidence. Career Academies are small learning communities established within urban high schools that combine academic, career, and technical education organized around specific career themes. They are intentionally integrated with local employers to provide work-based learning opportunities in fields with demonstrated local demand. Though not designed to directly improve marital and family outcomes, a randomized evaluation of Career Academies found that participants were significantly more likely than non-participants to be married and living independently with a partner and children eight years after high school graduation.145
Another policy approach to increasing family stability involves reforms to state divorce laws. The legal regime of no-fault divorce played a role in the divorce revolution of the 1960s and 1970s.146 Divorce rates have declined since then, but as shown above, that largely reflects the aging of the population into life stages with relatively low divorce risk. Reforms to state divorce laws—such as requiring classes or extended waiting periods for divorcing couples (with exceptions for cases of domestic violence)—could encourage spousal reconciliation and increase family stability.147 Policy changes that make divorce harder to obtain, however, could discourage entry into marriage as well.148
Another potential contributor to family instability is pornography. Although the effects of pornography on developing minds or romantic relationships have not been studied in great depth, the balance of longitudinal research shows a negative correlation between pornography use and relationship quality and stability.149 Considering the proliferation of pornography access, including among youth, policymakers and the public should at least have a better understanding of its potential adverse effects. To that end, Congress could fund a comprehensive study that examines the effects of pornography use on human development and relationship health, particularly among youth.
A final set of policies is focused not on single parenthood or divorce but on placing children removed from neglectful or abusive homes into stable, healthy family situations. Unfortunately, children often languish in the current foster care system.150 There were 437,283 children in the foster care system at the end of fiscal year 2018—the first year of decline in the foster care caseload since it began rising in fiscal year 2012.151
Despite the need to move these children into stable homes, federal and state policies all too often inhibit this process. States should take care to ensure that their legal systems are efficiently moving foster children into stable homes instead of delaying this process, as sometimes is the case.152 In addition, while faith-based organizations have provided foster care and adoption services throughout the nation's history, some, such as Catholic Charities of Boston, have had to close down due to state laws that discriminate against their religious beliefs. State policymakers should remove these and other unnecessary regulations that restrict the supply of foster and adoptive parents. At the federal level, JEC Chairman Mike Lee introduced the First Amendment Defense Act in 2018, which would prohibit the federal government from discriminating against individuals and groups based on their beliefs about marriage. Senator Michael Enzi and Representative Mike Kelly introduced the Child Welfare Provider Inclusion Act in 2019, which would prohibit states that receive federal Title IV foster care funding from discriminating against foster care and adoption providers based on their religious or moral beliefs about marriage.153
Conclusion
The Social Capital Project has documented the myriad ways in which associational life has deteriorated over the past fifty years. Nowhere is this decline more worrisome than in the realm of family stability. Relationships have become thinner and more fragile in many aspects of life, and the value of the social capital available to us has diminished as a result. But for children, there is no substitute for the benefits that come from strong family bonds.
Unfortunately, family instability has increased to the point where it is the norm for many Americans today. Troublingly, those most likely to experience family disconnection are the least-advantaged among us. While family instability does not necessarily doom a child to poorer life outcomes, it often means greater disconnection in the most intimate of human relationships and less social capital of the strongest type.
Changing the course of family stability will likely require substantial effort, given the magnitude of the challenge in many American communities today and the pervasiveness of the decline. Compounding matters, our understanding of what got us here is woefully incomplete. It should be no surprise, then, that policymakers have yet to find a way to reverse the troublesome trends documented in this report. Until we get a better sense of what has caused family breakdown to worsen and of what policies are effective at reversing breakdown, policymakers will need to experiment with a variety of approaches. Toward the end of strengthening families—the source of so much potential happiness or sadness in our lives—Americans of all backgrounds and perspectives must come together and make headway on this most important modern-day problem.
Rachel Sheffield
Senior Policy Advisor

Scott Winship
Executive Director
Writing assistance also provided by Vijay Menon and Robert Bellafiore
---